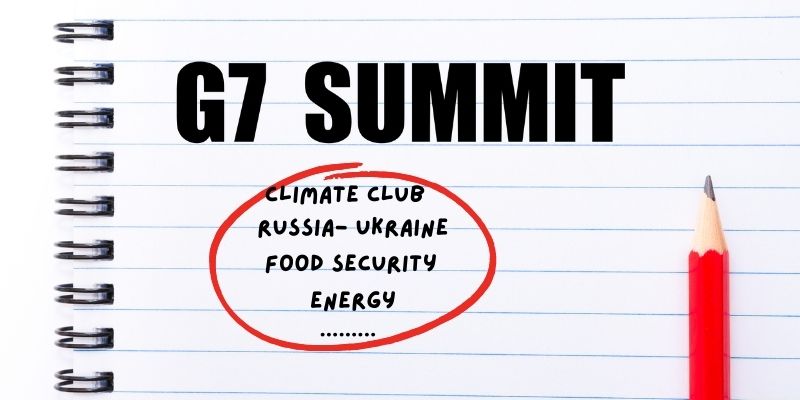 Decoding the Highlights of the G7 Summit
Read more



G7 countries (G7 Group) include Canada, France, Germany, Italy, Japan, the UK, and the US. Russia got expelled from group G8 following its annexation of Crimea. In a way, we can say the G7 represents developed countries.

Annually, G7 countries discuss burning issues and form policies accordingly. Since the decision taken by these powers can have a significant impact, there exists criticism by protesters who claim that the interests of other countries are not raised as they are not represented in the group. Even if the decisions of the G7 are not binding in nature, reports claim that the group is making the fight against poverty difficult. According to some analysts, G7 is a product of the bygone era.

2022 – Key Takeaways

Germany holds the presidency of the G7 in 2022. The German Presidency has invited Argentina, India, Indonesia, Senegal, and South Africa to the G7 Summit. Its competitors and adversaries, Russia and China, were not present.

Russia's war of aggression against Ukraine: Their statement condemned Russia's illegal and unjustifiable war of aggression against Ukraine.

Severe and enduring costs on Russia: G7 members will continue to impose severe sanctions on Russia to help bring an end to this war.

In this regard, the official communique endorsed a ban on the transport of Russian oil sold above a certain price cap.
Leaders also agreed to a ban on Russian gold imports. According to the US, Russia has used gold to support its currency in order to avoid the impact of sanctions. One method is to exchange gold for a more liquid foreign currency that is not subject to current sanctions. Some experts say since only a few countries are implementing the gold ban, the move is largely symbolic. While others say that Russia will still be able to sell gold to other countries outside the Group of Seven jurisdictions, it will "impact the ability of Russia to earn export revenue." It may create a threat of secondary sanctions, i.e., countries outside G7 who trade with Russia may face a ban.

Ensure global food security: The participating leaders have pledged to spend $4.5 billion this year to help ensure global food security.

On China's 'market-distorting' practices: G7 leaders condemned China's non-transparent and market-distorting international trade practices. The G7 leaders signaled that they would work to reduce their economic reliance on China.

Energy: Commit to achieving a fully or predominantly decarbonized power sector by 2035.

Partnership for Global Infrastructure and Investment: G7 announced the collective mobilization of 600 billion dollars by 2027 under the Partnership for Global Infrastructure and Investment (PGII) to deliver "game-changing" and "transparent" infrastructure projects to developing and middle-income countries. It is a rival plan against China's belt and road initiative with an aim to reduce its dominance in the developing world.

Global cooperation: G7 members agreed to expand their global cooperation by pursuing new Just Energy Transition Partnerships with Indonesia, India, Senegal, and Vietnam, in addition to the existing partnership with South Africa.

COVID-19: To combat the COVID-19 pandemic, G7 will build on its provision of over 1.175 billion vaccine doses since the last meeting in 2021.

Resilient Democracies document signed: Through this statement, the participating countries expressed their commitment to protecting the freedom, independence, and diversity of civil society actors as well as the freedom of expression and opinion online and offline.

G7 Climate Club: Establish a Climate Club to support the effective implementation of the Paris Agreement. Aim to keep greenhouse gases at a bare minimum.
Source: IE