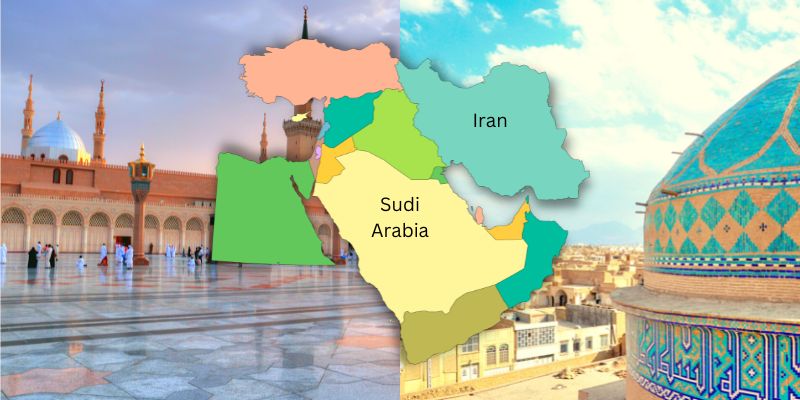 Breaking the cycle of conflict?
Saudi Arabia and Iran, two powerful neighbors in the Middle East, have agreed to restore diplomatic ties and respect each other's sovereignty. This is a major breakthrough that was negotiated by China in Beijing. The two countries plan to maintain non-interference in each other's domestic affairs.
This agreement is very important because diplomats have been trying hard to stop a long-lasting war in Yemen, in which both Saudi Arabia and Iran are heavily involved.
What are Iran and Saudi Arabia fighting about?
Religious Factor: In 2016, Saudi Arabia cut ties with Iran after protesters broke into Saudi diplomatic posts. This happened after Saudi Arabia executed a famous Shiite cleric a few days earlier.
Saudi Arabia has traditionally portrayed itself as the world's main Sunni nation, whereas Iran sees itself as the guardian of Islam's Shiite minority.
Attacks on Saudi Arabia: Iran was blamed for a number of attacks in 2019, including one that hit the heart of Saudi Arabia's oil business.
Regional Cold War: Saudi Arabia and Iran, two powerful neighbors, are locked in a fierce battle for regional control.
After the Arab Spring in 2011, there were uprisings all over the Arab world, which led to political instability throughout the area. Iran and Saudi Arabia are expanding their power, especially in Syria, Bahrain, and Yemen. This makes both countries even more suspicious of each other.
Proxy Wars: Iran and Saudi Arabia are not directly fighting, but they are engaged in a variety of proxy wars (conflicts where they support rival sides and militias) around the region. For example, Houthi rebels in Yemen. Saudi Arabia accuses Iran of supporting them.
Leader of the Islamic World: In the past, Saudi Arabia, which was a kingdom and was home to the place where Islam began, saw itself as the leader of the Muslim world. But this was changed by the Islamic revolution in Iran in 1979. This formed a new type of state in the area—a kind of revolutionary theocracy—with the goal of spreading this model beyond its own borders.
The recent agreement between Saudi Arabia and Iran may have implications for a US-led effort to isolate Iran economically through sanctions. It could also help end the eight-year civil war in Yemen, where the Saudis have been backing the internationally recognized government against Iranian-backed Houthi rebels. The deal may also stabilize global oil prices since both Saudi Arabia and Iran are major oil producers.
However, the pact has caused concern among Israeli politicians who have sought global isolation for Iran. The agreement was described by Israel as a "serious and dangerous" development.