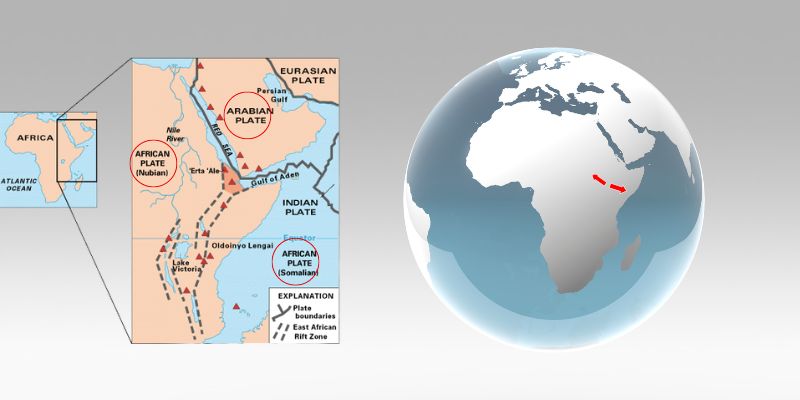 The great rift
As Africa breaks in two, scientists have forecast the formation of a new ocean. In geology, rifting is the process by which a single tectonic plate breaks apart into multiple continents with distinct boundaries.
The 56-kilometer-long East African Rift (also known as the Great Rift Valley) first emerged in the Ethiopian desert in 2005, dividing the continent and causing the formation of a new sea.
A flat area, called a rift valley, forms as a result of this process, either on land or on the ocean floor. Rift basins form when Earth's tectonic plates shift and break apart.
What is happening in Africa currently?
The Nubian African Plate, the Somalian African Plate, and the Arabian Plate are all moving apart from one another, but at varying speeds.
While the Arabian Plate is moving away from Africa at a rate of one inch per year, the two African plates are separating even slower.
As the Somali and Nubian plates continue to pull apart, a rift valley will emerge, resulting in the formation of a new lowland region. This process will create a smaller continent, which will include parts of Kenya, Ethiopia, Tanzania, and present-day Somalia.
The emergence of a new ocean will also occur, resulting in East Africa becoming a separate small continent with its own unique geographical and ecological characteristics.
But as exciting as this may sound, the process of rifting comes with its own set of challenges and consequences. The displacement of communities, settlements, and various flora and fauna will occur, while climate change will impact their habitats, resulting in environmental degradation. Rapid urbanization and increased settlements will put pressure on natural resources, leading to a scarcity of water, energy, and food. Uncontrolled waste disposal will also be a major problem, putting further strain on the environment. To make matters worse, some species will disappear, while others will become endangered due to habitat changes.