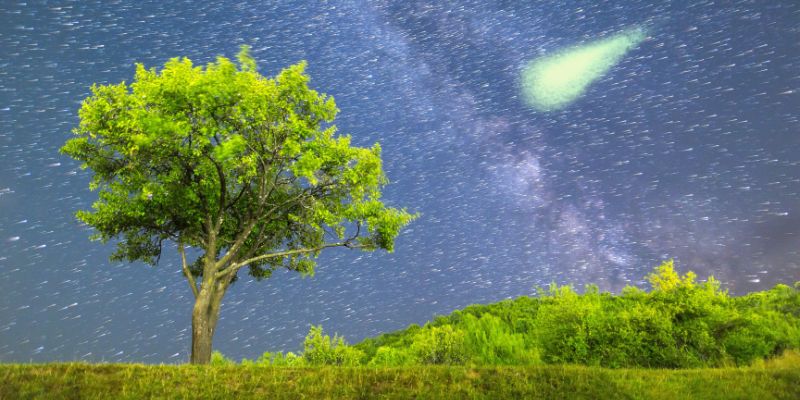 What is Oort cloud?
Read more



Using the wide-field survey camera at the Zwicky Transient Facility (ZTF) in the United States, astronomers have recently identified a comet that is nearing Earth after roughly 50,000 years.

What are Green comets?

Comets are frozen, rocky, or gas-filled objects that are leftovers of the solar system's creation.
Green comet orbits the sun in 50,000 years.
When comets get close to the sun, the icy surfaces melt and release a lot of gas and dust, resulting in a massive atmosphere and tails.
Comets have orbits, just like all the other things in space. They are sometimes pulled close to the sun by the sun's gravity.
The comet's path shows that it comes from the Oort cloud, a large collection of comets at the edge of our solar system.

Source

The Oort cloud is a theoretical spherical cloud of comets that is thought to surround the solar system. It is believed to be located at a distance of about 50,000 to 200,000 AU (1 AU is the average distance from the Earth to the Sun) from the Sun.
The Oort cloud's presence has not been directly observed, but it is considered to be the source of long-period comets spotted entering the inner solar system.

What is the reason for the Green color? 

Laboratory research has linked this green glow to a reactive molecule called dicarbon that is found in the comet's head and gives off green light when broken down by sunlight.

Even though there is no set time to see the green-glow comet, it is most likely to be best on February 1 and 2.
Source: IE