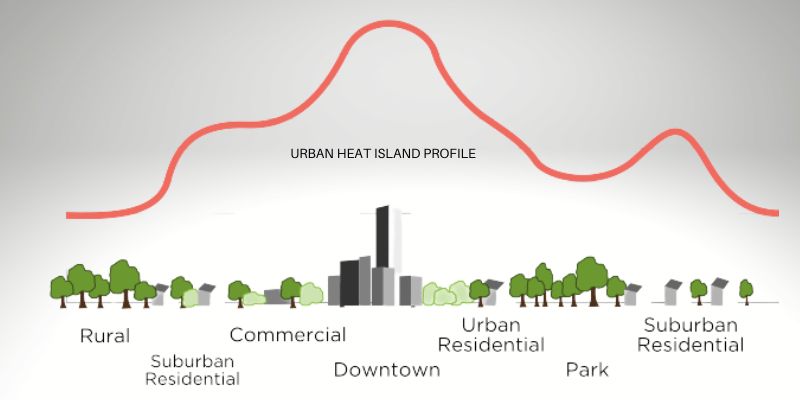 Urban areas are experiencing record-breaking heatwaves as a result of climate change
Read more



Urban areas are constantly subjected to periods of extreme heat, resulting in the formation of urban heat islands (areas in the cities that are even hotter than their surrounding areas).

Singapore has successfully cooled down parts of its cities, and other countries are now looking to adopt some of its strategies.

Singapore has been looking to cut electricity usage and carbon emissions with district cooling networks. It refers to the centralization of cooling with central chillers. In traditional cooling, each building has its own chiller plant, but in district cooling, Chilled water is generated in a central cooling plant. A closed loop network of insulated pipes distributes the chilled water to each building.
Wind Garden in Madrid (Spain): It is a spiral structure made of mosses and ferns, which catches the cool breeze above tree tops and draws them down to cool gardens and streets, acting like a giant air conditioner. It could lower the surrounding temperature by 4 degrees C.
'Cool roofs' feature bright coatings to reflect more sunlight and absorb less heat.
'Sponge cities' (China): It has transformed hard surfaces, such as roads and pavements, into permeable surfaces that can absorb, seep, purify and store water and thus also lower surrounding temperatures.

'Cooling Singapore,' a multi-institutional project launched in 2017 with funding from the Singapore government to build a computer model, or digital urban climate twin, of Singapore. This will allow policymakers to analyze the effectiveness of various heat mitigation measures before spending money on solutions that might not work.
Source: WEF