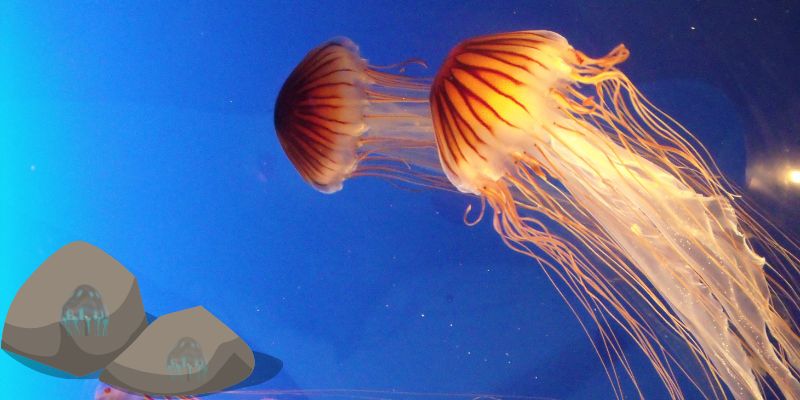 A super cool discovery happened in Canada
Imagine traveling back 505 million years ago to a time when strange creatures roamed the seas. Recent news has brought to light an amazing discovery – fossils of jellyfish from this distant era!
This super cool discovery happened in Canada. There's a special place there called the Burgess Shale, where scientists found jellyfish fossils buried in rocks.
What's So Special About These Fossils?
These jellyfish fossils are like time capsules, holding onto astonishing details. Think about it: more than 90 finger-like tentacles sticking out from their bell-shaped bodies! Some of these fossils even have traces of what they last ate and their reproductive parts. This helps scientists understand how these ancient jellyfish looked and behaved.
What are jellyfish, anyway? Imagine a fancy umbrella with over 90 wiggly fingers—that's what their bodies look like. But wait, they don't have bones like us; they're more like soft underwater balloons.
Life of a Jellyfish
Jellyfish might not be big thinkers—they don't have brains—but they're fascinating! They drift along with ocean currents and can be found all around the world. Some jellyfish even have special adaptations, like glowing in the dark or having eyes. They eat small fish, plants, and other tiny creatures, using their stinging tentacles to catch and stun their prey.
The Tricky Fossil Puzzle
These fossils were found a long time ago, but now scientists are talking about them. Jellyfish are mostly water, which makes turning them into fossils a real challenge. Their delicate bodies usually disappear quickly after they die, leaving behind almost no trace. This is the reason finding these ancient jellyfish fossils is such a big deal. It may have gotten stuck in the mud flow under the sea around 500 million years ago. That's why it was saved and didn't disappear. It tells us that jellyfish have been living their jellyfish lives for a really, really long time, even before dinosaurs.
One special fossil they found is a new kind of jellyfish they named Burgessomedusa phasmiformis. It's special because it's really, really old and looks a bit like a ghost. They say it's like a character from a video game called Pac-Man because of its shape.