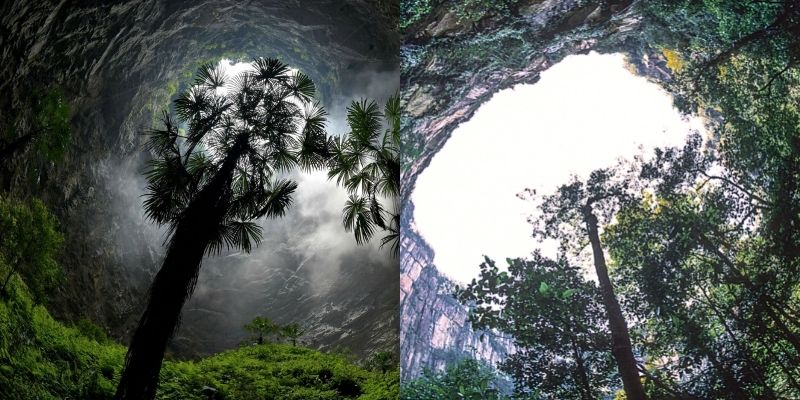 What are sinkholes?
Read more



Chinese scientists discover a deep sinkhole with a forest at the bottom. They are speculating that the forest could be home to unique species that have never been reported or described by science in the past.

Sinkholes are depressions formed in the ground. Typically, sinkholes form in areas of "karst" terrains, where the rock below the surface of the Earth can be easily dissolved by groundwater. This process is slow and gradual; it can sometimes take hundreds or thousands of years. The rocks get eaten away and make passages and eventually enlarge into caves over time. If a cave gets large enough, the land above it can sink and reveal these stunning, otherworldly sinkholes.

In Mandarin, giant sinkholes are called Tiankeng or "heavenly pit." Southern China is home to karst topography – a landscape prone to dramatic sinkholes and caves.

The newly discovered sinkhole measures 306 meters (1,004 feet) in length, 150 meters (492 feet) in width, and 192 meters (630 feet) in depth.

Interestingly, the sinkhole has three big caves in the walls, and its bottom has a well-preserved primitive forest with trees there as tall as 131 feet, reaching to the mouth of the cave where sunlight filters in. Caves and sinkholes can often provide an oasis for lifeforms that otherwise would have become extinct or never evolved in the first place.

A similar discovery was made months ago in another cave in China that found a species that was thought to be lost for over 100 years.

Due to differences in geology, climate, and other factors, the way karst landscapes appear at the surface can be dramatically different. One can find visually spectacular karst in China with enormous sinkholes and giant cave entrances. In other parts of the world, sinkholes may be quite subdued, only a meter or two in diameter with small cave entrances, so you may have to squeeze your way into them.
Source: IE