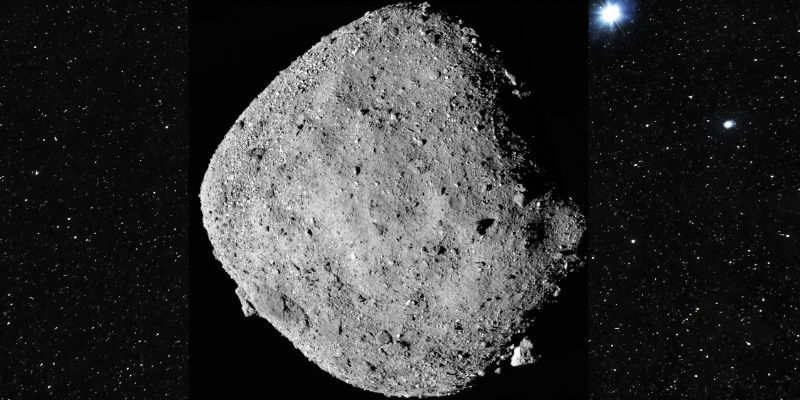 Countdown begins – Journey to Bennu and Back
In 2016, a special spacecraft called OSIRIS-REx set out on a journey into space. Its mission? To pay a visit to an asteroid named Bennu, not too far from our Earth. What made this mission so important was its task: to collect pieces of rocks and dust from Bennu's surface and bring them back to us.
Fast forward to 2020, it delicately touched the surface of Bennu and scooped up some samples. Now, OSIRIS-REx is making its way back to Earth, carrying these precious samples with a scheduled arrival date of September 24, 2023.
But why is this mission such a big deal? The samples from Bennu contain secrets about how our planets came into being and even shed light on the origins of life. Moreover, studying Bennu and similar asteroids helps us understand others that might pose a threat to Earth in the future.
Interestingly, OSIRIS-REx's adventure doesn't conclude there. After it delivers the samples, it's embarking on another mission to another asteroid, Apophis, in 2029.
Asteroids are like ancient fossils from the early days of our solar system. By studying them, scientists can piece together how everything in space came together. OSIRIS-REx joins a team of spacecraft that has done similar work, with Japan leading the way. They've brought back bits of asteroids like Hayabusa and Ryugu. OSIRIS-REx aims to bring back even more—at least 60 grams of material—for scientists to study up close in their labs.
One more thing OSIRIS-REx will teach us about is the "Yarkovsky effect." Think of it as a gentle breeze from the sun that can nudge asteroids in their paths. It's a bit like trying to blow a piece of paper—it may not seem like much, but over time, it can make a big difference. Understanding this effect helps us figure out how to predict and perhaps change the course of asteroids that might come too close to Earth.