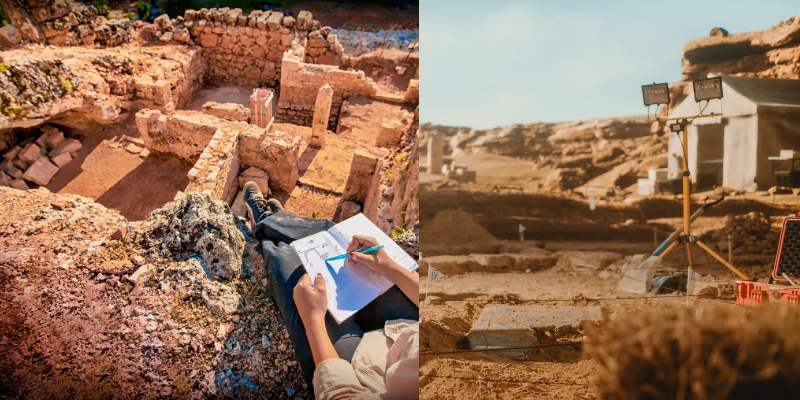 Archaeologists Discover Gaza's Largest Roman-era Cemetery 
Stretch your imagination to a time 2,000 years ago when the Roman Empire spread far and wide. At its peak, Rome was not just a city but an idea, a civilization that brought different places and people together under one mighty flag.
Now imagine walking through the bustling streets of modern-day Gaza, when suddenly the ground beneath you gives way, revealing a hidden world from centuries past. That's precisely what happened to a group of unsuspecting construction workers. Beneath the dust and rubble, they stumbled upon secrets whispering tales of grand emperors, magnificent cities, and a life that once thrived in the ancient Gaza Strip. This discovery reminds us that beneath every step we take, there might be stories waiting to be uncovered.
So as workers were digging for a new project in Gaza, they found something unexpected – a massive cemetery from Roman times! This piece of land, about 2/3 of an acre, is the biggest of its kind ever found in this area.
At first, they counted 60 graves, but now there are 135! Among them, two special stone boxes, called sarcophagi, caught everyone's attention. One had beautiful grape leaf designs, and the other had dolphin images on it. Sarcophagi are large stone boxes or coffins, often decorated, used to bury important or wealthy people in ancient times. These lead sarcophagi are a first for Gaza. 
The experts digging up these graves think that they can learn a lot about the old days – like what people ate, how they lived, and what diseases they might have had. The exceptional quality of the lead sarcophagi hints that they might belong to historically significant figures or social elites. And, the location of this big cemetery might mean it was near a busy city center a long, long time ago.
Located along historic trade routes between major ancient civilizations, the Gaza Strip is steeped in history. However, its archaeological treasures have been under threat due to multiple factors, including Israeli occupation, the Hamas takeover, and rapid urban development.
Now, there's a plan to carefully study these skeletons somewhere else and then bring them back to Gaza. Many people believe that it's super important to look after these finds and share the old stories with everyone.
Finding this cemetery makes us realize how much history Gaza holds. And it's a reminder that even when times are tough, looking back at the past can give us a better understanding of today.