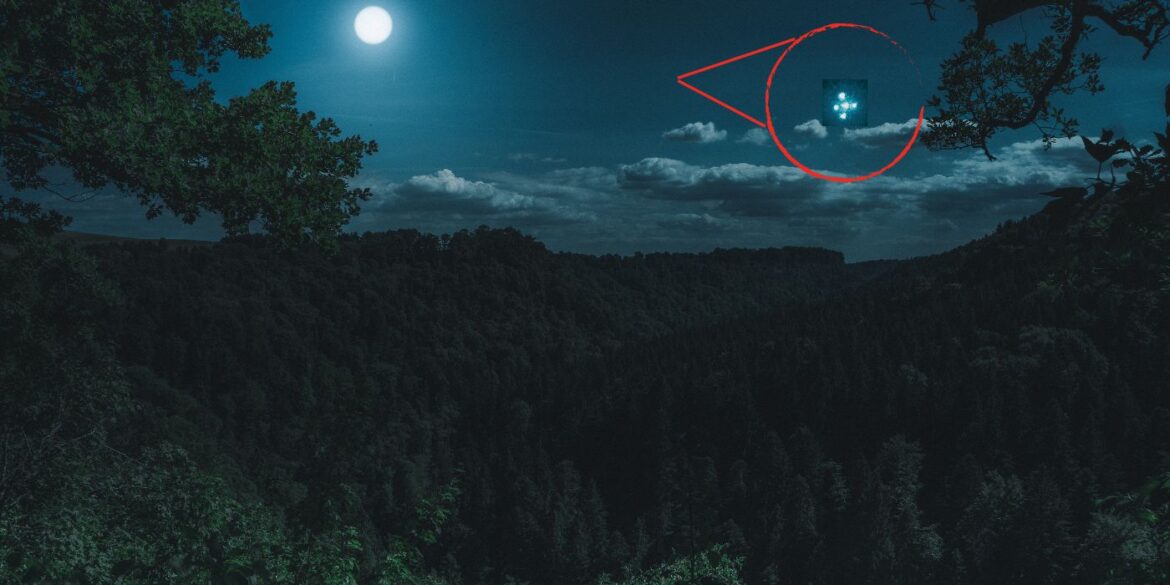 What is "Einstein cross"?
Scientists have discovered a rare example of an "Einstein cross," which is something that Albert Einstein predicted back in 1915.
Imagine you're watching a superhero movie, and the hero has a crystal that can make copies of themselves. Well, in space, there's a similar thing happening with stars, and it's called an "Einstein cross.
A long time ago, Albert Einstein said that huge objects in space, like stars and planets, can bend and twist light around them. It's like how a magnifying glass can bend sunlight. Imagine you're looking at a tiny bug, and the magnifying glass makes it look much bigger – that's what happens with light in space!
Now, sometimes, there's a special situation where a super bright star is in front of another star that's not so bright. The bright star's strong gravity acts like that magnifying glass, bending the light from the dimmer star and making it look like there are copies of it in different places.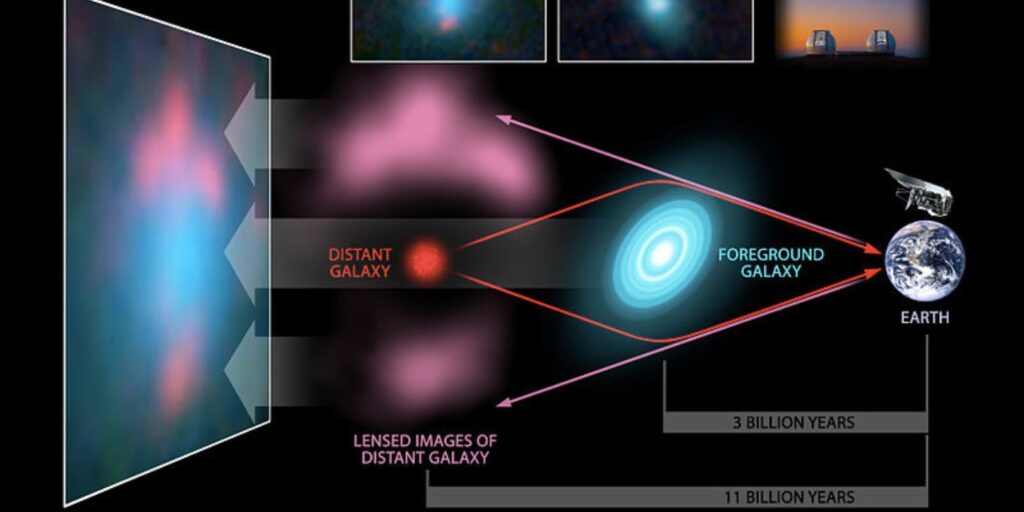 So, when astronomers say they've found an Einstein cross, it's like they've caught a real-life magic trick that Einstein talked about a long time ago. It's as if the universe is showing off by making stars look like they're in more than one place at the same time!
And this trick where light gets bent by a star's magic? It's called gravitational lensing. It's like nature's way of playing with light and making space art. One super interesting result of this bending of light is magnification. This means we can actually see things that are really far away and not very bright because the bending makes them look bigger and brighter than they actually are. It's like using a space telescope to peek at hidden cosmic treasures that would be too far and dim to spot otherwise!
Einstein's idea of general relativity helps us understand how really heavy things can bend the fabric of space and time. In this case, a big galaxy in the front curved the light from a super bright star behind it, making the star's light look like a cross thanks to the strong pull of gravity.
Einstein Cross is a specific case of Gravitational Lensing. Another case of gravitational lensing is Einstein Rings. These rings happen when two galaxies line up almost perfectly, with one galaxy behind the other. It's like a cosmic optical illusion created by the universe itself.
Why are these so rare? Imagine trying to hit the bullseye on a target with your eyes closed – it's not easy! Similarly, for these events to occur, the distant star or galaxy, the foreground object with strong gravity, and our viewing angle all need to be perfectly aligned.
Now let's break down those fascinating statistics and their meaning!
Imagine you're looking through a time telescope that can see really far away. The latest Einstein Cross is like a special window into the past. The big star that's doing the light-bending magic is actually a galaxy, and it's about 5.998 billion light-years from us.
Now, the distant galaxy that's being magnified is way, way out there – more than 11.179 billion light-years away! That means the light we're seeing from it has been traveling for more than 11 billion years to reach us. It's like a cosmic postcard from a galaxy that existed when the universe was quite young.
So, what's the cool part? The foreground galaxy that's doing the lensing is actually giving us a front-row seat to what that distant galaxy looked like when the universe was still in its early stages. It's like peering into a time capsule, getting a sneak peek at galaxies from billions of years ago.
In a nutshell, this Einstein Cross is like a time machine, showing us a distant galaxy from way back when. It's an incredible way for astronomers to learn about the history of the universe and how galaxies have evolved over billions of years.