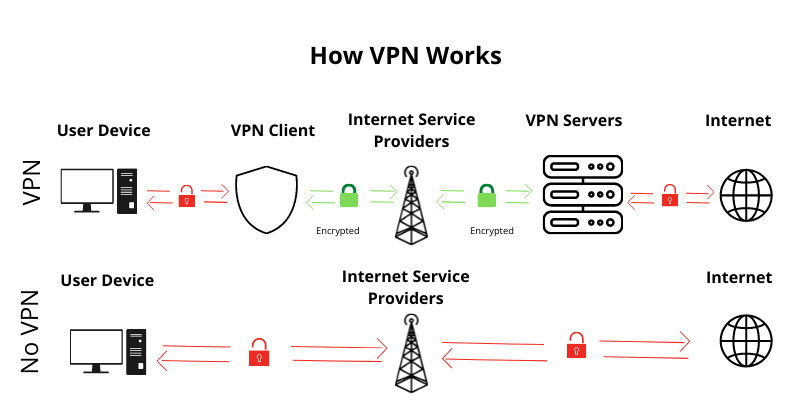 What are VPNs? 
Read more



A Virtual Private Network (VPN) is a connection over the Internet that helps users hide their browsing history, internet IP address, and geographical location, as well as their web activities. Many times, users access platforms with a VPN to keep their online identity anonymous.

As more businesses began operating from home, VPN services have grown in popularity. Therefore, businesses mandate that employees utilize a VPN network to access platforms securely in order to protect data saved on private office networks. Individual users often use VPNs to access banned sites like torrents and more.

How does it work?

When you activate your VPN connection, a secure channel is established that serves as an intermediary between your device and the destination webpage. Your information is then transmitted to an external VPN server, which connects you to your destination. However, when the VPN server does this, your IP address is changed, making websites unable to accurately track your location.

Assume you're driving away from home in your car. Your IP address is represented by your vehicle's license plate. Everyone on the road can see where you're going and use your license plate to track your car back to you. This is the same as browsing the Web normally — without a VPN.

Using the same analogy, when you use a VPN, you can take a different, hidden road to the same destination, but no one can see you on it, and the hidden road changes your license plate for the journey and then again when you return home.

How is VPN useful?

For privacy – Without a VPN connection, websites can see your IP address and use it to identify your identity and location accurately.

For Safety – A VPN would prevent everyone from the Government to cyber criminals from tracking you easily.

To bypass online censorship – Many countries restrict access to various websites, which you cannot access if you are a resident of those countries. A VPN allows you to avoid such restrictions.

Which countries have banned VPNs?

While some governments have regulated VPNs, others have outright banned them.

The Great Firewall of China limits internet access to sites deemed inappropriate by the authorities. This means that if you are in China, websites that you use in everyday life — like Instagram, Twitter, Facebook, Google, and YouTube, will be out of reach. But not with a VPN.

Therefore, the countries where VPNs are banned include China, Belarus, Iraq, North Korea, Oman, Russia, and the UAE.

But there are no restrictions on VPNs in the EU and USA, but they do come under government scrutiny in certain cases related to national security and law and order.

The Indian Government recently imposed restrictions on VPNs. VPN providers, for example, will need to store validated customer names, physical addresses, email addresses, phone numbers, and the reason they are using the service. According to the Government, this was done to combat cybercrime and to protect national security. As a result, the Government appears to want to end anonymity and keep track of online activities, particularly illegal ones.

However, many experts read the order on VPNs to curb freedom on the Internet. This is why VPN services like NordVPN decided to remove servers from India to continue keeping users' data safe. New VPN rules have made companies upset.

Point of discussion: Is free access to the Web an important element of the freedom of speech and expression?
Source: timesofindia