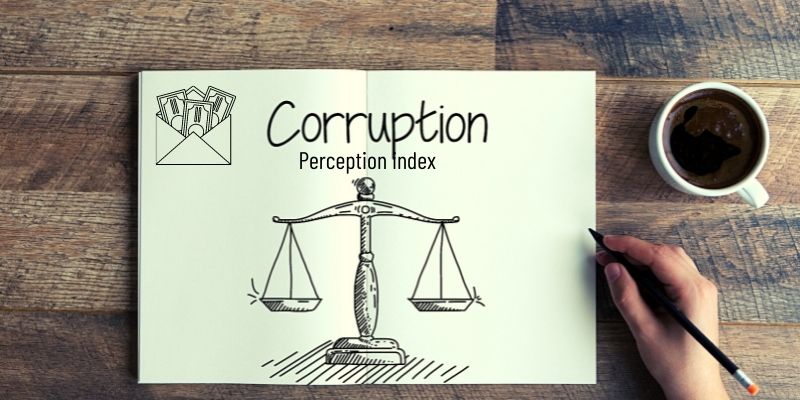 Transparency International recently released the Corruption Perception Index (CPI) 2021
Read more



Transparency International is an international non -governmental organisation founded in 1993 and based in Berlin, Germany. Its purpose is to combat global corruption with the help of civil societal anti-corruption measures and prevent criminal activities arising from corruption.

Key Points

The Index assigns a ranking to 180 countries and territories based on their perceived levels of public sector corruption.
It relies on 13 independent data sources.
It uses a scale of zero to 100, with zero being highly corrupt and 100 being very clean.
The CPI report tells us that control of corruption has stagnated or worsened in 86% of countries over the last decade.
World average score remains 43, and more than two-thirds of countries (68%) score below 50.
Since 2012, scores have improved significantly in 25 countries, but have dropped significantly in 23 countries over the same period.
Best Countries: This year, the best performing countries are Denmark, Finland and New Zealand, each with a score of 88. Singapore (85), Norway (85), Sweden (85), Switzerland (84), the Netherlands (82), Luxembourg (81) and Germany (80) complete the top 10.
Worst Countries: South Sudan (11), Syria (13) and Somalia (13) remain at the bottom of the Index.
Countries with armed conflict and authoritarianism have the lowest scores, such as Venezuela (14), Afghanistan (16), North Korea (16), Yemen (16), Equatorial Guinea (17), Libya (17) and Turkmenistan (19).

Fall of Democracy

Human rights and democracy are under attack all over the world, from the repression of opposition supporters in Belarus to the closure of media outlets and civil society organisations in Nicaragua, to the violence against protesters in Sudan and the killing of human rights defenders in the Philippines.

Rights, checks and balances are increasingly being eroded not only in countries with systematic corruption and weaknesses but also in established democracies. On the Democracy Index, 90 per cent of countries' civil liberties scores have stagnated or declined since 2012.

The current wave of authoritarianism is being driven not by coups and violence, but rather by gradual efforts to undermine democracy. It usually starts with attacks on civil and political rights, attempts to undermine the independence of oversight and election bodies, and media control. These attacks enable corrupt regimes to avoid accountability and criticism, allowing corruption to thrive.

The Covid-19 pandemic is also used as an excuse in many countries to curtail fundamental freedoms and avoid important checks and balances.
Source: transparency org