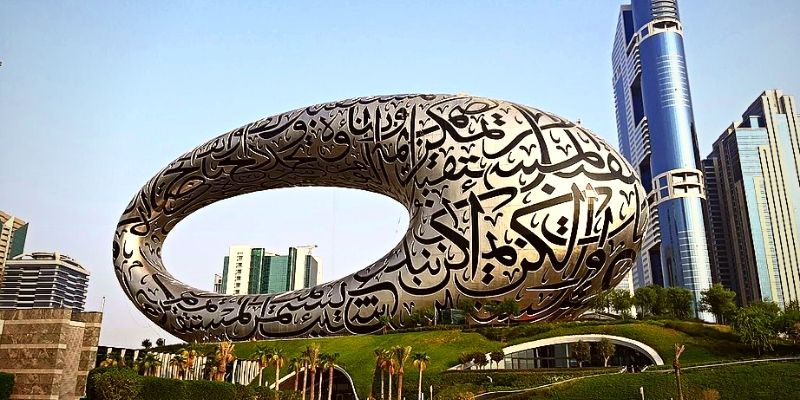 This Museum's mission is to foster technological advancement and innovation, particularly in the disciplines of robotics and artificial intelligence
Read more



The "Museum of the Future" (MOTF) is a platform for displaying creative and futuristic ideologies, services, and products. It was opened on February 22, 2022, a historically significant palindrome date. The goal of this museum is to encourage technological progress and innovation, particularly in the domains of robotics and artificial intelligence (AI), which have the potential to improve and transform humanity. While the museum is still being finished, it has hosted several exhibitions in recent years.

The museum is said to take guests on an immersive experience, taking them to the year 2071 to coincide with the UAE's 100th anniversary. According to its creators, the larger goal is to serve as an incubator for scientists, philosophers, and researchers to develop and test their ambitious ideas and visions for the future.

Distinct Architecture

The shape of the building is futuristic, as it forges a new route away from the highrise buildings that dominate skylines everywhere. Its form is also symbolic:

The round structure represents humanity.
The green mound on which it sits represents the Earth.
The void signifies the unknown future.

Emirati artist Mattar bin Lahej's inspirational quotes in Arabic calligraphy adorn its stainless-steel exterior.

The seven-story, pillar-less structure, encompassing an area of 30,000 sq m, was created by architecture company Killa Design and has already been acknowledged by National Geographic as one of the world's 14 most beautiful museums.

Museum of the Future uses cutting-edge technology in virtual and augmented reality, big data analysis, artificial intelligence, and human-machine interaction to address numerous issues about humanity's future, cities, civilizations, and life on Earth, all the way to outer space. It also comprises innovation labs for health, education, smart cities, energy, and transportation for generating and testing new ideas, particularly in areas connected to significant societal concerns. The trip to space and how we might use space travel is a major exhibit component. There is also an emphasis on DNA sampling and genetics.
Source: IE