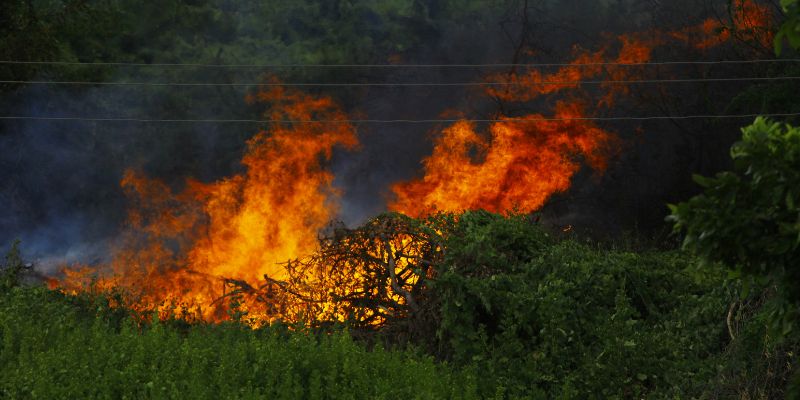 Why are wildfires worsening?
Read more



Wildfires destroy thousands of hectares of land in France, Greece, Portugal, and Spain, displacing thousands of people and killing several emergency personnel.

A wildfire is a large fire that breaks out unpredictably in combustible environments and often burns uncontrollably over a large area for an extended period of time.

Wildfires require the right climatic conditions, burnable fuel, and a spark.
Rising temperatures suck moisture out of plants, creating an abundance of dry fuel.
While dry vegetation serves as kindling for fires, the spark is sometimes caused by lightning and other times by an accident or the recklessness of the local population. E.g., in Australia, most bushfires are caused by lightning.
Other natural causes can be – Rolling stones and friction of bamboos swaying due to high wind velocity resulting in sparks.
Drought and high temperatures can kill plants and dry out grass and other material on the forest floor, which fuels the fire once it begins.
In Europe, the region has experienced an early fire season as a result of an unusually dry, hot spring that has left the soil dehydrated. Authorities attribute this to climate change as heatwaves have become more frequent, more intense, and last longer.
Examples of extreme climatic conditions are high wind speed and direction, high temperature, low level of moisture in soil and atmosphere, and duration of dry spells.

At a global level as well, the world is undergoing through wildfire crisis, with reports of wildfires in Siberia, the Amazon basin, Pantanal wetland (South America), Australia, and the rainforest of Indonesia.

Example: In Siberia and Russia, climate change is causing winters to become shorter and weather to become drier and windier, leading to more intense fires occurring across larger areas.

Human-caused fires in Indonesia where large areas of peatland were burned during last year's fires to be converted into tree plantations.

In Pantanal (South America), farmers set fires on their land during the summer, but drought and strong winds caused these fires to rage out of control and surpass traditional barriers such as roads and streams.
Source: IE