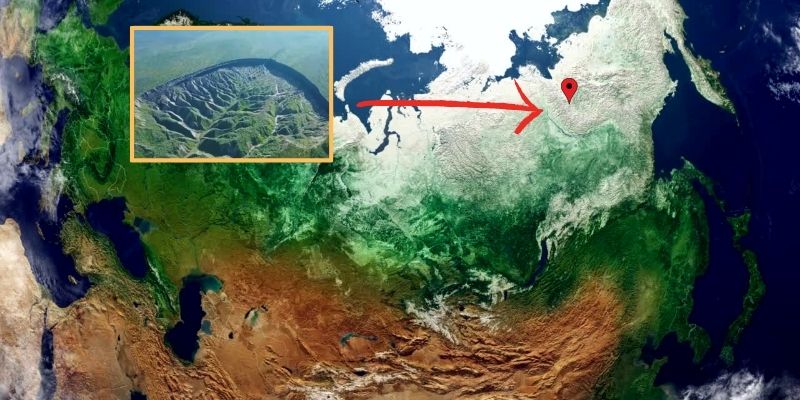 Batagaika Crater: A Massive Sinkhole in Russia's Far East
There is a unique natural phenomenon found in Siberia, Russia, known by the name Batagaika Crater. Imagine a huge crater in the ground that looks like a giant sinkhole, but it's not caused by a meteorite or anything like that.
The Batagaika Crater is often called the "Gateway to the Underworld" because it keeps getting bigger and deeper over time. It is caused by something called permafrost. But what is permafrost? It's ground that stays frozen for at least two years straight, and it's made of soil, rocks, and sand held together by ice.
In the past, this region used to have really cold temperatures, and the ground was mostly frozen. But with climate change, the temperatures have been rising, and this has a direct impact on the ground.
The problem is that it's not just a local issue. The thawing of this crater is causing trouble for nearby towns and cities in Russia. Roads are buckling, houses are splitting apart, and even pipelines are getting disrupted. That's bad news for everyone living there.
But it doesn't stop there. When the permafrost thaws, it releases a tonne of organic carbon into the atmosphere. And that's not good for our planet. This carbon acts like a greenhouse gas, making global warming even worse.
The scary part is that the crater's expansion is not slowing down. With the temperatures rising, it's just going to get worse. More greenhouse gases will be released, and climate change will keep impacting us all.
The locals have a name for it – the "mega-slump." As our Earth warms up, Russia is facing a crisis, warming at least 2.5 times faster than the rest of the world. It's not just about this impressive crater anymore; it's about the danger it poses to cities and towns across northern and northeastern Russia and also the planet as a whole.
Batagaika Crater is just one example of how climate change affects our planet in unexpected ways. It's like a wake-up call for all of us to take action and protect our environment. If we don't do something to tackle climate change, more unique and beautiful places like the Batagaika Crater could be at risk. So, it's essential for all of us to be mindful of our actions and work together to reduce our carbon footprint. Whether it's using less energy, planting trees, or supporting sustainable practices, every little step counts.