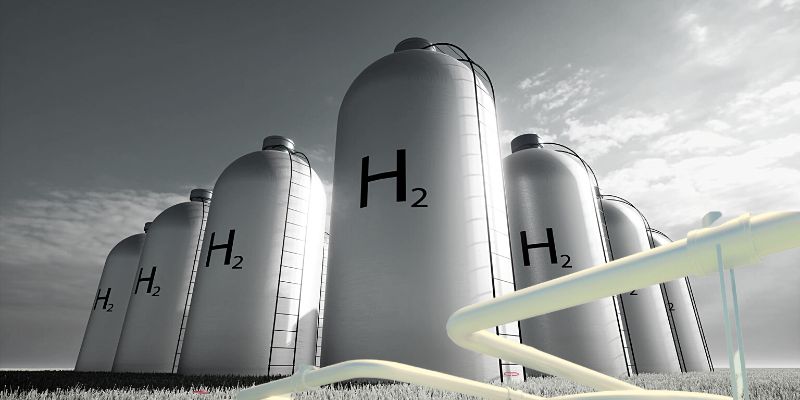 Why do we need green hydrogen?
Read more



Hydrogen is a key industrial fuel that is used to make ammonia (a key fertilizer), steel, refineries, and electricity, among other things.
But all of the hydrogen that is made now is called "black" or "brown" hydrogen because it is produced from coal.
Hydrogen is the most common element in nature, but it doesn't exist on its own. It has to be extracted from compounds found in nature (like water).
When an electric current is passed through water, oxygen and hydrogen are separated. And if the electricity used in this process comes from a renewable source like wind or the sun, the hydrogen that is made is called "green hydrogen."
The colors associated with hydrogen represent the source of electricity needed to create the hydrogen molecule.

Grey hydrogen is derived from natural gas, whereas "blue" hydrogen is derived from fossil fuel sources, with the carbon emissions absorbed by carbon-capture techniques. Green hydrogen is produced through electrolysis, which involves splitting water into hydrogen and oxygen using electricity provided by renewable energy sources such as solar or wind. This is the most environmentally friendly method of hydrogen production.

Globally, green hydrogen development is still in its early phases. Due to the high cost of production, it now accounts for less than 1% of global hydrogen production.

Why do we need green hydrogen?

Because of its high energy content per unit of weight, hydrogen is a tremendous source of energy, which is why it is used as rocket fuel.
Green hydrogen is one of the cleanest energy sources, emitting almost no pollution.
It can be used in fuel cells for cars or in industries that use a lot of energy, like making fertilizer or steel.
Countries all over the world are working to build green hydrogen capacity, which has become a global buzzword, especially since the world is in the middle of its worst energy crisis ever and climate change is becoming a real threat.

There needs to be a push to get people who use industrial hydrogen to switch to green hydrogen. Countries need to build supply chains with pipelines, tankers, intermediate storage, and distribution networks. They also need to set up an effective skill development program to make sure that workers can be trained to work in a green hydrogen economy.
Source: TH