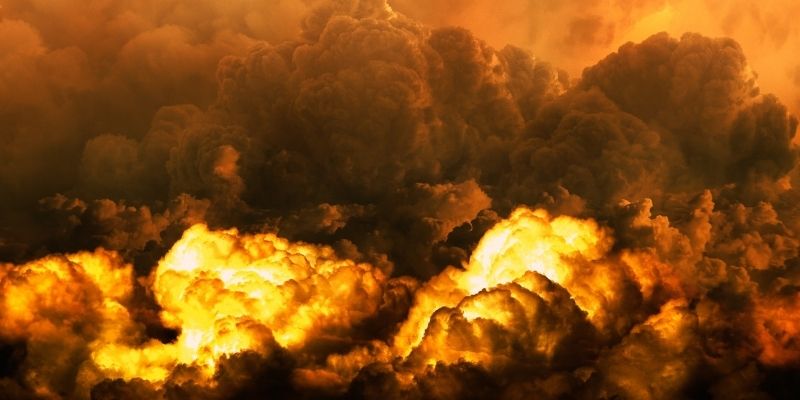 Human rights groups accused Russia of using dangerous bombs
Read more



International humanitarian law is a set of rules that seek to limit the effects of armed conflict. Launching indiscriminate attacks that kill or injure civilians is a war crime.

What are cluster munitions? These are weapons that are designed to injure or kill people indiscriminately over a large area while also destroying vehicles and infrastructure such as runways, railways, and power transmission lines. It can be dropped from an aircraft or launched in a projectile that spins in flight, scattering a large number of bomblets as it travels. Many of these bomblets do not explode but instead, remain on the ground, often partially or completely hidden and difficult to locate and remove, posing a threat to civilians long after the fighting has stopped.

What is the Convention on Cluster Munitions? It is a united Nations-adopted legal instrument that prohibits all use, production, transfer, and stockpiling of cluster munitions. The countries that are not parties are the US, Russia, China, Pakistan, India, and Israel, among others.

What is a thermobaric weapon? Thermobaric weapons — also known as Vacuum bombs — suck in oxygen from surrounding areas to generate high-voltage explosions. A vacuum weapon causes significantly greater devastation than a conventional bomb of comparable size and can vapourize humans.

They can be fired as rockets or dropped from aircraft. The weapon goes off in two separate stages. As they hit their target, a first explosion splits open the bomb's fuel container, releasing a cloud of fuel and metal particles over a large area. A second explosion then occurs, igniting the aerosol-cloud into a massive ball of fire and unleashing powerful blast waves.

Any international law or agreement does not prohibit vacuum bombs. Still, their use against civilian populations in built-up areas, schools, or hospitals, could attract action under the Hague Conventions of 1899 and 1907. Hague Convention is a series of international treaties establishing the laws and customs of war in the strict sense by defining the rules that belligerents must follow during hostilities.
Source: economictimes