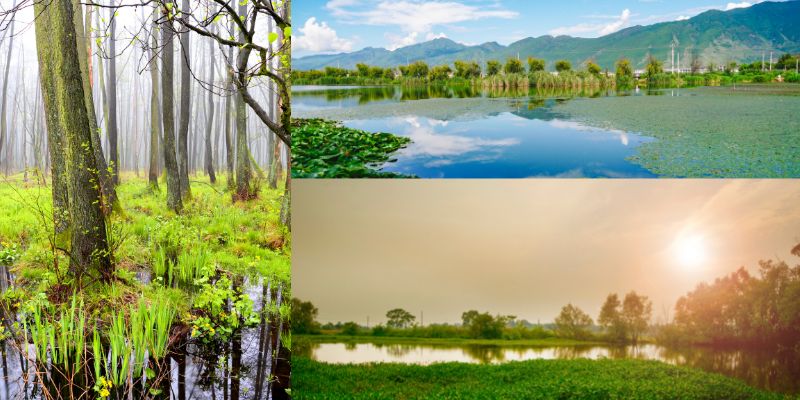 Also known as the convention on wetlands
Read more



It is an intergovernmental treaty adopted in 1971 in Ramsar, Iran. It entered into force in 1975. Under this convention, wetlands that are of international importance are declared Ramsar sites—the largest Ramsar site in the world: Pantanal in South America.

Wetlands are places in which land is covered by water either seasonally or permanently. Wetlands provide benefits for humanity, ranging from freshwater supply, food, building materials, and biodiversity to flood control, groundwater recharge, and climate change mitigation.

Wetlands also remove the excess nutrients and slow the water allowing particulates to settle out of the water, which can then be absorbed into plant roots.

Wetlands are our most effective land-based ecosystem for addressing the climate crisis, e.g., coastal wetlands such as mangroves sequester carbon up to 55 times faster than tropical rainforests. Unfortunately, wetlands are rapidly being replaced for agriculture or urban development.

Wetlands take many forms, including rivers, marshes, bogs, mangroves, mudflats, ponds, swamps, lagoons, lakes, and floodplains.

Montreux Record 

Adopted in Montreux (Switzerland) in 1990.
Identifies Ramsar sites that need priority conservation attention at the national or international level.
Source: HT