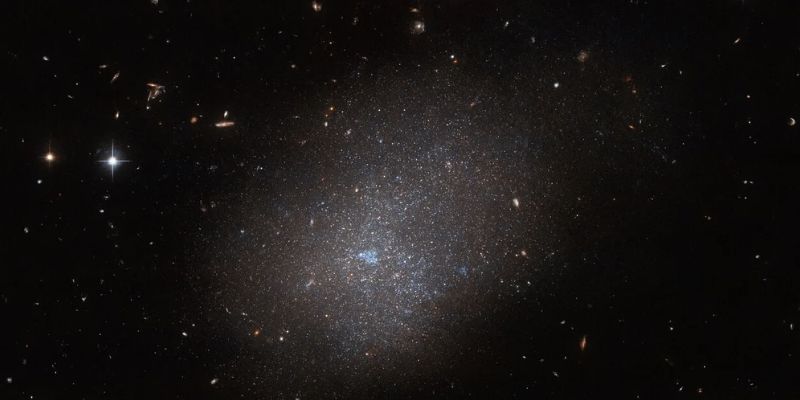 What is an Irregular Galaxy?
We have a special camera in space called the Hubble Space Telescope. This camera can take pictures of really faraway things in the sky, like galaxies. Recently, it took a picture of a galaxy called ESO 300-16, located at a distance of 28.7 million lightyears. That's a huge distance!
Imagine looking up at the night sky and seeing all those stars and galaxies. Now, most galaxies look kind of organized and round or spiral-shaped. But there's a special kind of galaxy called an "irregular galaxy."
An irregular galaxy is like the wild child of the galaxy family. Instead of having a neat and tidy shape, it's all messy and jumbled up. It doesn't have a clear structure like a circle or a spiral. Instead, its stars and stuff are scattered all over the place, as if someone threw a cosmic party and things got a little chaotic.
These galaxies can come in all sorts of strange and unique shapes. Sometimes they're big blobs with bits sticking out, or they might look like they're stretching and twisting in odd ways. It's like nature's way of being creative and not following any rules when making galaxies.
Scientists think that irregular galaxies might have been bumped around by other galaxies, or they might be young galaxies that haven't settled into a proper shape yet. So, if the universe was a big gallery of artwork, irregular galaxies would be the abstract and unpredictable pieces that keep everyone guessing.