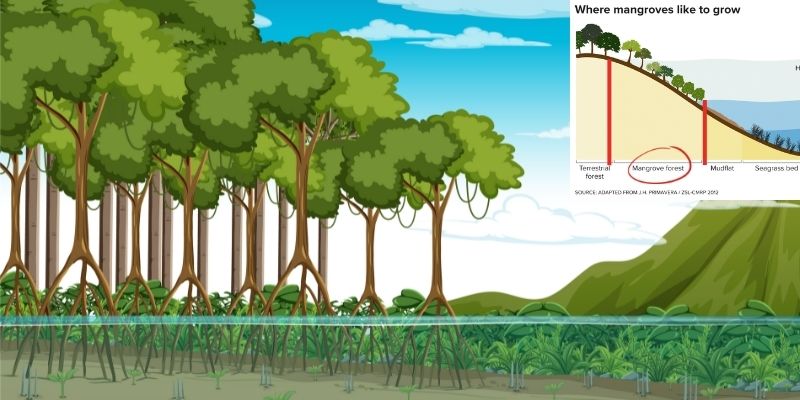 About Mangroves
Read more



Mangrove Alliance for Climate (MAC), spearheaded by the UAE in collaboration with Indonesia, was launched at the COP27 Summit in Egypt to scale up and accelerate mangrove forest protection and restoration. It recognizes the importance of these ecosystems for climate change mitigation and adaptation. India, Australia, Japan, Spain, and Sri Lanka have joined it as partners.

The alliance will be amplified at the G20 Summit held between November 15 and 16, 2022, in Bali under the Indonesian presidency.

About Mangroves:

A mangrove is a small tree or shrub that grows along coastlines and has roots in salty sediments, often underwater. They also grow in swamps.
These are salt-tolerant plant communities serving as a transition between terrestrial and marine environments.
Because its roots are partially above water, the mangrove tree appears unusual. The roots are exposed to help the mangrove tree take in oxygen in a waterlogged environment.

Mangrove forests can withstand extreme weather conditions and require low oxygen levels to survive.
The mangroves cannot survive freezing temperatures and are thus found mainly in subtropical and tropical latitudes.
To raise awareness about mangrove ecosystems and promote their conservation, UNESCO celebrates July 26 as the International Day for the Conservation of the Mangrove Ecosystem.
According to Mangrove Alliance for Climate, mangrove forests can store 10 times more carbon per hectare than terrestrial forests. When the mangroves are cut, the carbon stored in these trees gets released into the air. So, preserving them to keep the carbon emissions levels low is necessary.
Once the plants die, they release the stored carbon into the soil. This is called "blue carbon."
Also, mangrove forests act as natural barriers against rising tides and storms.
They also provide breeding grounds for marine biodiversity, and 80% of global fish populations depend on healthy mangrove ecosystems.
There are many mangrove-related tourist attractions globally.

Millions of people live close to and directly rely on mangroves for food, income, and mental and spiritual well-being.
Mangroves can provide wood for building and fuel for cooking. Some mangrove roots and fruits are also used in traditional medicines.
These protect the coast from erosion by reducing the flow of soil and sediment from the land into the sea. Thus, they provide sediment stabilization and trapping. This water filtration helps protect offshore ecosystems such as coral reefs. Mangroves also act as a nutrient filter.
Source: Business Standard