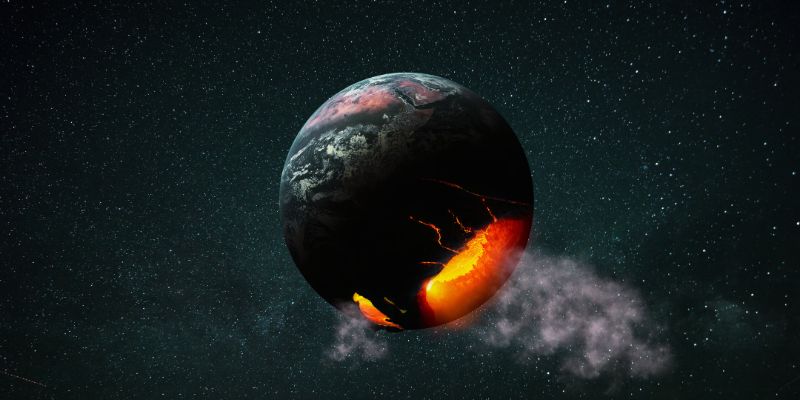 Hot Core Wrapped in Mountains
Scientists have made a fascinating discovery deep within the Earth, around 2,900 kilometers below our feet. They believe that the Earth's core, which is a super-hot and dense region at the center of our planet, might be surrounded by the remnants of an ancient ocean floor. This ocean floor is like a "blanket" that wraps around the core.
What's even more incredible is that this ancient ocean floor has created enormous mountains beneath the Earth's surface, and these mountains are much taller than Mount Everest, the tallest mountain on the Earth's surface. These underground mountains are called ultra-low velocity zones (ULVZs).
Scientists found these mountains by studying seismic waves, which are vibrations that travel through the Earth when there are earthquakes. By analyzing these seismic waves, they discovered strange zones where the waves slowed down a lot. These zones were the ULVZs, and they hinted at the presence of these hidden mountains.
These mountains are believed to be made up of bits of the Earth's crust that were once part of the ocean floor. Over a very long time, as the Earth's tectonic plates moved and collided, this ocean floor got pushed deep into the Earth. It became very dense and heavy, allowing it to sink all the way down to the core-mantle boundary, which is the area between the Earth's rocky mantle and its super-hot core.
This discovery is important because it helps explain why the Earth's core is so much hotter than the mantle above it. The dense, heat-resistant ocean floor acts like a barrier, trapping heat inside the core. This heat movement in the core affects many things on Earth, such as the creation of volcanic islands like Hawaii and the Earth's magnetic field.
While this discovery is fascinating, scientists still need to do more research to be absolutely sure that these mountains exist and have the role they suspect. Some scientists think there might be other explanations for the strange seismic data they've observed. But if this discovery is correct, it could teach us more about how our planet was formed and how it continues to change over time.