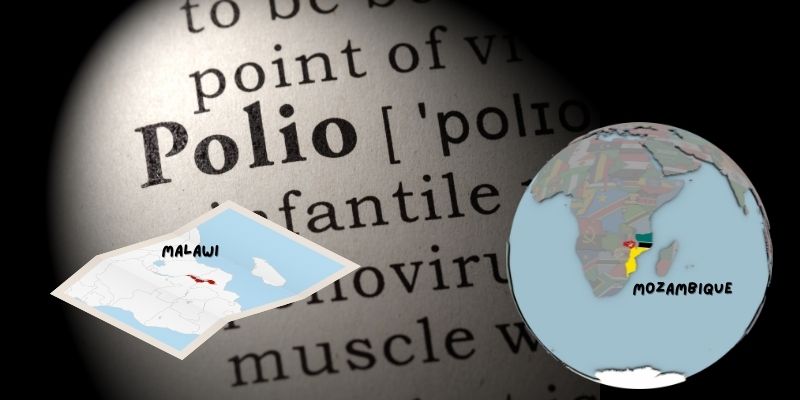 For much of human history, polio has been one of the most feared diseases
Read more



Mozambique reports its first case of wild poliovirus Type 1 after a child contracted the disease. It is the country's first such case in 30 years. Malawi experienced an outbreak earlier this year.

About Polio

Polio (Poliomyelitis) is a highly contagious viral disease that largely affects children under the age of five.
There is no cure for polio, but the vaccine protects children for life.
It spreads primarily through the fecal-oral route from person to person or, less frequently, by contaminated water or food. Because the virus lives in an infected person's faeces (poop), people who are infected with the disease can spread it to others if they do not thoroughly wash their hands after defecating.
The virus multiplies in the intestine. From there, it can invade the nervous system causing spinal cord damage and muscle weakness, and paralysis. Because there is no treatment for this, the patient is crippled for life.
The most common type of poliovirus is Wild Poliovirus (WPV).
There are three strains of WPV- type 1, type 2, and type 3.
Type 2 was eradicated in 1999.
Since 2012, no cases of type 3 have been discovered.
As of 2020, type 1 affects two countries: Pakistan and Afghanistan.
To be declared polio-free, a country must stop the wild transmission of all three types.

Although wild polio is caught in the environment, another type of polio is linked to the oral vaccine (which contains a live, weakened virus), which is equally concerning. There have been outbreaks of this type of polio in over 20 African countries in recent years. However, an injectable form of the vaccine containing a dead virus is now used, which does not result in polio cases. Cases of both vaccine-derived and wild polio type be reduced to zero in order to achieve eradication.
Source: The Guardian