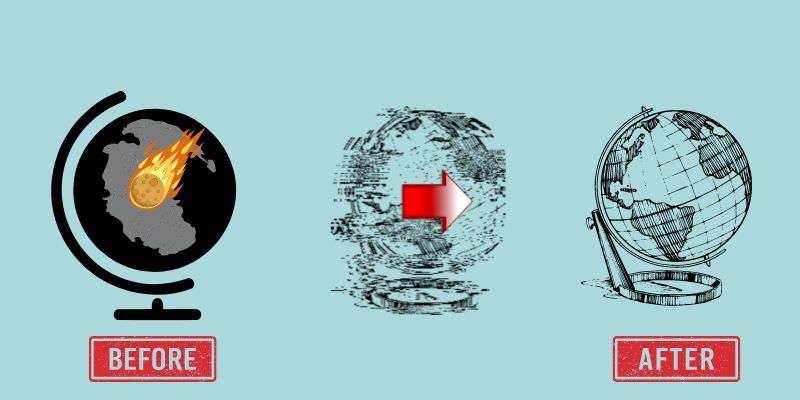 Meteorite impacts created continents
Read more



A new Curtin University study has found the most robust evidence yet, showing that giant meteorite impacts formed Earth's continents. The paper was published in Nature on August 10, 2022.

Experts discovered evidence of these massive meteorite impacts by examining crystals of the mineral zircon in rocks from the Pilbara Craton in Western Australia, which represents Earth's best-preserved remnant of ancient crust. These impacts were common in the first billion years or so of Earth's history. Notably, Earth is over four and a half billion years now.

The composition of zircon crystals revealed a process that began with the melting of rocks near the surface and progressed deeper, which corresponded to the geological effect of massive meteorite impacts. Thus, giving evidence of the processes that ultimately formed the continents began with giant meteorite impacts.

Asteroids are rocky objects that orbit the Sun and are much smaller than planets. Sometimes asteroids smash into another and break off. Those pieces are called meteoroids.

If a meteoroid comes close enough to Earth, it vaporizes and turns into a meteor, also called "shooting stars."

But Sometimes meteoroids don't vaporize and land on the Earth's surface and are then called meteorites.

We also have Continental Drift Theory. It is concerned with the distribution of the oceans and continents. Alfred Wegener, a German meteorologist, proposed it first in 1912. According to the theory, all of the continents combined to form a single continental mass known as Pangaea. Pangaea began to split into two large continental masses, Laurasia and Gondwanaland, which formed the northern and southern components, respectively. Laurasia and Gondwanaland subsequently split into the various smaller continents that exist today.

There is evidence in support of the Continental Drift Theory.

South America and Africa seem to fit in with each other.
The west coast of India, Madagascar, and Africa seem to fit.
North and South America on one side and Africa and Europe on the other fit along the Mid-Atlantic Ridge.
Alfred Wegner studied ancient plant and animal fossils, geographical features on the continent's borders, and mineral resources and discovered similar results on the boundaries of the other continents.

Plate Tectonics Theory – Developed from the 1950s to the 1970s, the theory of plate tectonics is the modern update to continental drift. Plate tectonics is the theory that the Earth's outer shell is divided into large slabs of solid rock known as "plates," which glide over the Earth's mantle.

The movement of tectonic plates is currently the most widely accepted theory of continent formation. The meteorite impact theory has been around for decades, but it still lacks solid evidence to back it up. New research has now provided the most substantial evidence to date supporting this old idea.
Source: IE