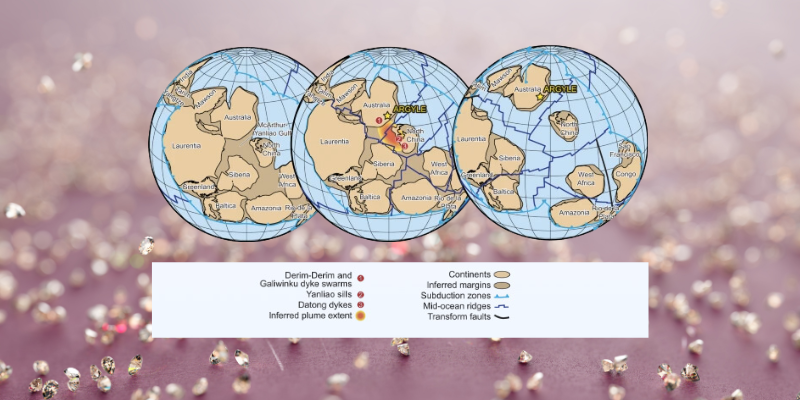 Breakthrough study reveals the volcanic trigger behind the world's most sought-after gem
In recent news, scientists have uncovered the mysterious "missing ingredient" for the creation of pink diamonds, one of the world's most sought-after gems due to their rarity and stunning beauty.
Most pink diamonds, accounting for over 90%, were found in the Argyle mine, located in the far north-west of Australia. The mystery has been why this specific mine, which is not in the centre of a continent but at its edge, produced such a vast number of these rare pink stones.
The authors shared that two key ingredients were already identified for the formation of pink diamonds:
Carbon, which should be deep within the Earth. If it's less than 150 km deep, it becomes graphite.
The perfect amount of pressure, which can change the diamond's colour. Too little turns it pink, while too much results in brown.
The third and final component, as revealed in the journal Nature Communications, is a volcanic eruption powerful enough to propel these gems to the Earth's surface at incredible speeds.
Interestingly, for a diamond to stay a diamond when it reaches the surface, it needs to travel super fast, like in a volcanic eruption. Using advanced techniques, the researchers figured out that the diamonds' rise to the Earth's surface was due to the break-up of the first supercontinent, Nuna, roughly 1.3 billion years ago. This supercontinent collision created the necessary pressure, while its breakup, triggering a significant volcanic event, catapulted the diamonds to the Earth's surface
While this discovery is exciting, finding more pink diamonds won't be a walk in the park. Over time, nature has done a good job hiding potential diamond spots under layers of soil and sand. But the hunt is on! With the knowledge of how these diamonds came to be, miners are optimistic about uncovering more in regions where continents once collided.
In a world where diamonds are a symbol of forever, the tale of the Argyle pink diamonds reminds us of the dynamic and ever-changing history of our planet.