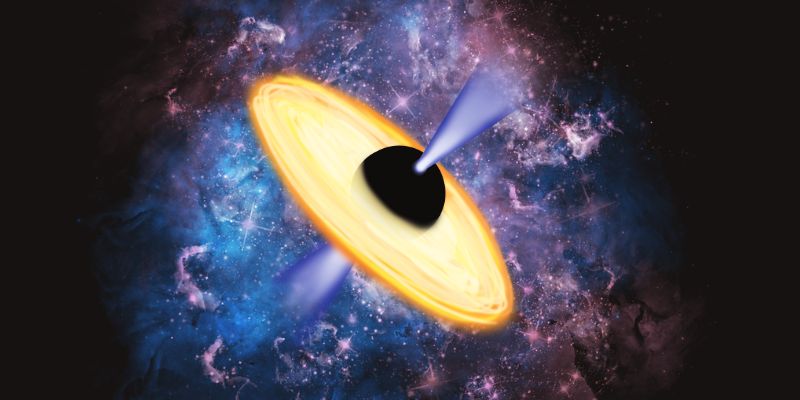 What is a Quasar?
Read more



As matter falls into the black hole, it emits massive energy, resulting in a very bright and luminous disc surrounding the black hole. The energy generated by materials swirling around a black hole just before being sucked into it creates quasars. In short, they are located in supermassive black holes, which sit in the centers of galaxies. Quasars are typically much larger than our solar system.

According to a new study, Quasars have a violent origin story. The research has revealed that the violent collision of galaxies can trigger the formation of quasars. When two galaxies merge, their supermassive black holes can also merge, leading to the formation of a much larger black hole at the center of the new galaxy. This newly formed black hole can then begin to accrete matter from its surroundings, producing a bright and energetic quasar.

Recently, using NASA's Hubble Space Telescope, astronomers' investigations have made an unexpected and rare discovery: a pair of gravitationally bound quasars inside two merging galaxies. This discovery is exciting because these quasars existed when the universe was just 3 billion years old. The catch is, since Hubble is looking so far back in time, those two quasars are no longer there. Over billions of years, their host galaxies have probably merged together to form a giant, elliptical galaxy like the ones we see around us today. So, this discovery tells us more about how black holes grow and evolve over time. There is increasing evidence now that large galaxies are built up through mergers.

Quasars are some of the brightest objects in the universe, and the most luminous ones can outshine entire galaxies, including all of the stars within them. This incredible brightness makes quasars visible from billions of light-years away, allowing us to study them in great detail despite their enormous distance. In fact, some of the most distant quasars ever discovered are so far away that their light has been traveling toward us for more than 13 billion years, which means we are seeing them as they appeared just a few hundred million years after the Big Bang.