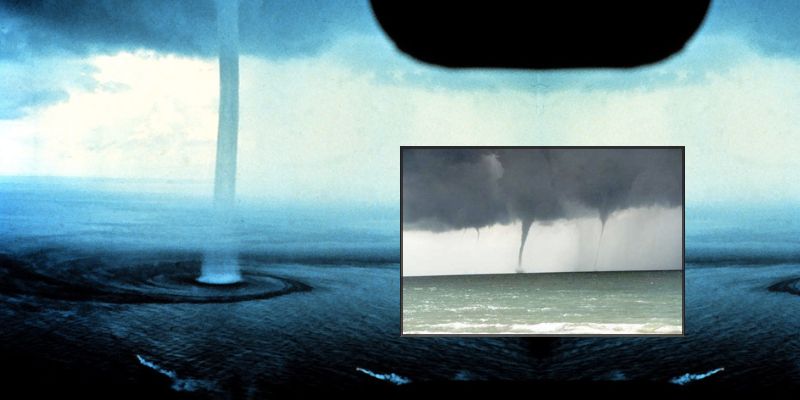 Rare Meteorological Phenomenon
Prepare to be amazed by one of nature's most breathtaking wonders – waterspouts! A mesmerizing video of this incredible phenomenon recently went viral, leaving everyone in awe. The video, shared by a Twitter user, features a stunning waterspout on the Kama River in Russia's Perm region.
A little about nature and the difference of mentality. Kama River. Perm region. July 13, 2023. pic.twitter.com/AaWTHqrnCR

— Zlatti71 (@djuric_zlatko) July 17, 2023
Imagine a golden bead hanging from the sky – that's what this waterspout looks like! People on social media couldn't get enough of it, with thousands of views and comments pouring in.
One user was curious and said, "According to a Chinese proverb, this is called the dragon sucking water." "The dragon drinks water," says an old Chinese proverb. Netizens even called it a "river to the heavens".
Waterspouts are usually not as strong as regular tornadoes. However, we should also remember that waterspouts can be dangerous. Experts advise keeping a safe distance from them, especially near populated areas or when engaging in maritime activities. Safety should always come first!
Now, how does this amazing water dance happen? It's all thanks to the warm air above the water and the cooler air above it. When these two air masses meet, they start swirling around, just like when you mix milk into your hot chocolate. As the swirling motion gains strength, it starts pulling up water from the surface, and voilà! The waterspout is born! Waterspouts can last for a few minutes or even up to an hour.
Though rare, they can be found in places like Europe, the Middle East, Australia, New Zealand, and Antarctica. Nature never ceases to amaze, and this waterspout is a perfect example of its splendor!