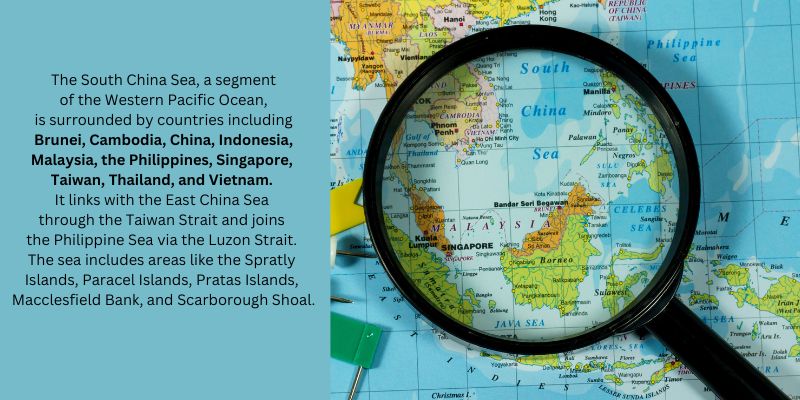 Philippines Challenges China's Barrier Installations
Recently, the Philippine coast guard removed a barrier set up by China in a disputed area in the South China Sea. China had placed this barrier in Scarborough Shoal, a hot fishing spot, to stop Filipino fishing boats from entering a key fishing spot.
Why is this a big deal?
China and the Philippines both claim parts of the South China Sea, a region rich in resources and a major global trade route. China has been more aggressive recently, setting up barriers and claiming large parts of the sea. The removal of the barrier by the Philippines is seen as them taking a strong stand against China's aggressive actions.
What's the bigger picture? 
The South China Sea disputes aren't just about China and the Philippines. Other countries like Vietnam, Malaysia, Brunei, and Taiwan also have claims in the region. Plus, while the U.S. doesn't claim any parts, they've been patrolling the area for decades, supporting freedom of movement and challenging China's claims. They've said they will defend the Philippines if necessary, adding to the complexity of the situation.
What's next?
Tensions are high. The Philippines is strengthening its presence, with support from the U.S. Meanwhile, China is asking the Philippines to back down and stop "provoking" them.
The South China Sea is heating up, with the Philippines and China in a tug-of-war over territory and rights. It is crucial due to its strategic maritime location, vast natural resource reserves, significant fishing grounds, overlapping territorial claims by multiple countries, its role in global geopolitics, especially U.S.-China rivalry, and its rich biodiversity. Its status affects global trade, regional power dynamics, and environmental conservation. Hence, this dispute is part of a larger, complex situation involving multiple countries and big global interests.
The South China Sea, a segment of the Western Pacific Ocean, is surrounded by countries including Brunei, Cambodia, China, Indonesia, Malaysia, the Philippines, Singapore, Taiwan, Thailand, and Vietnam. It links with the East China Sea through the Taiwan Strait and joins the Philippine Sea via the Luzon Strait. The sea includes areas like the Spratly Islands, Paracel Islands, Pratas Islands, Macclesfield Bank, and Scarborough Shoal.