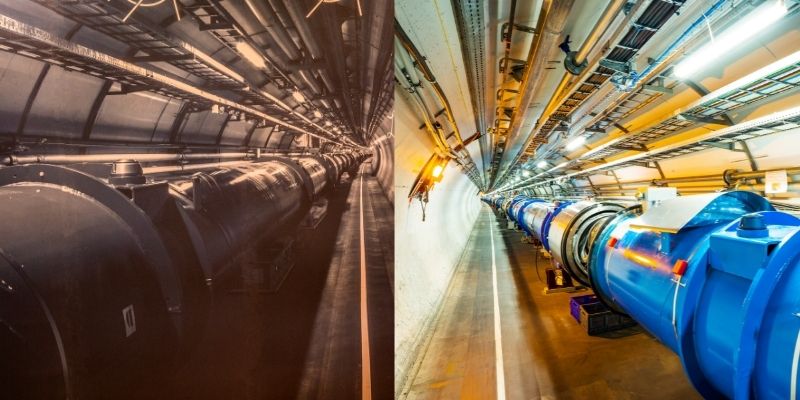 What is Dark matter?
Read more



Scientists at European Organization for Nuclear Research (known as CERN) restarted the Large Hadron Collider (LHC), which was shut down for maintenance and upgrades. LHC was first launched in September 2008 and has been closed for three years for an upgrade that was prolonged by COVID-19. Turning it back on was a complex operation. LHC will search for the elusive dark matter.

Dark matter is the matter that does not absorb, reflect or emit light, making it extremely hard to spot. Further, it does not interact with electromagnetic force. The existence of dark matter is inferred only from the gravitational effect it seems to have on visible matter. It is believed that dark matter is what gives galaxies extra mass, generating extra gravity they need to stay intact.

About LHC

The LHC is the most powerful particle accelerator ever built, capable of accelerating protons or ions to near the speed of light.
CERN built it between 1998 and 2008 in collaboration with over 10,000 scientists, hundreds of universities and laboratories, and more than 100 nations.
The accelerator sits in a tunnel 100 meters underground at CERN, on the Franco-Swiss border near Geneva, Switzerland.
It consists of a 27-kilometer ring of superconducting magnets (which is colder than outer space) with numerous accelerating structures that boost the energy of particles along the way.
It works by smashing tiny particles together to allow scientists to observe them.
In 2012, it helped scientists prove the existence of a subatomic particle called the Higgs boson, also known as the "God particle," which is believed to have played a vital role in the formation of the early universe.
"Improvements to the collider mean scientists will be able to study the Higgs boson in "great detail," CERN said in a press release.
In March, CERN announced it would stop collaborating with Russian scientists following Russia's invasion of Ukraine.
Source: CNN