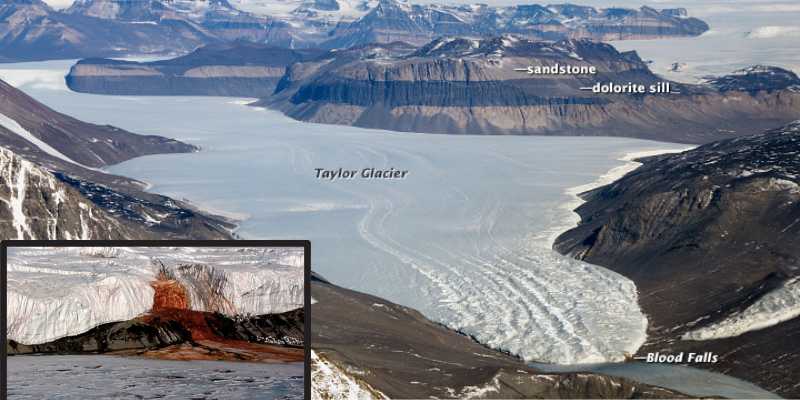 The study was published in Astronomy and Space Science.
Imagine a frozen world covered in ice and snow, where everything is white. Now, picture a strange phenomenon: a glacier that appears to be bleeding. This mysterious occurrence is known as Blood Falls, and it has puzzled scientists for over a hundred years. But recently, a team of US scientists made a breakthrough discovery that finally solved the enigma.
In 1911, during a British expedition to Antarctica, researchers came across Blood Falls and were astounded by its unusual red coloring. However, it wasn't until 2006 and 2018 that scientists had the opportunity to gather samples from the Taylor Glacier, the source of these falls. By examining these samples using powerful instruments, they were able to identify the true cause behind the eerie red hue.
What they found were tiny particles called nanospheres, which are a hundred times smaller than human red blood cells. These nanospheres come from ancient microbes that have lived in the meltwaters of Taylor Glacier for thousands, if not millions, of years. Along with iron, they contain elements like silicon, calcium, aluminum, and sodium. When the subglacial water carrying these nanospheres meets sunlight, oxygen, and warmth for the first time in a long time, it turns red.
The discovery of these nanospheres in Blood Falls has important implications beyond Antarctica. It suggests that current technology used to detect life on other planets, like Mars, may not be sophisticated enough to identify all forms of microbial life. The equipment used in this study, such as electron microscopes, cannot be easily transported to distant planets.
This means that if a Mars rover were to explore Antarctica today, it would not be able to detect the microbial nanospheres that give Blood Falls its distinctive red color. It's a reminder that there may be hidden life forms on other icy bodies in our solar system that we are currently unable to detect.
While it's not currently feasible to attach electron microscopes to Mars rovers, scientists believe that the solution lies in bringing samples back to Earth for detailed analysis. By studying these samples using advanced equipment, we may uncover nanoscopic evidence of life on other planets.
The discovery also highlighted the limitations of our current technology in exploring and understanding extraterrestrial life.