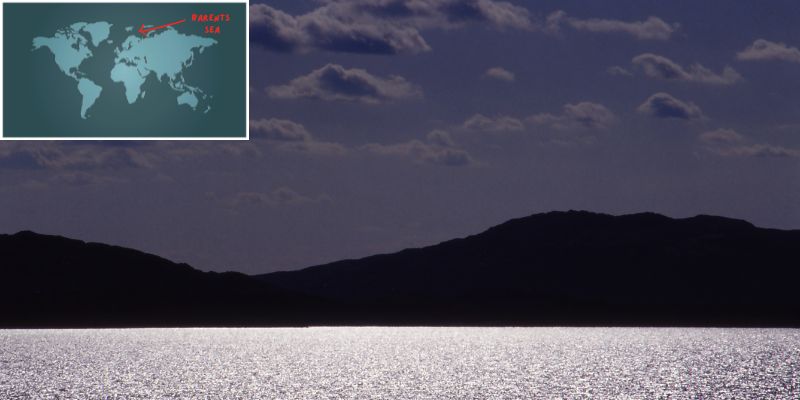 Such rapid warming has never been seen in the Arctic region
Read more



NASA data show that the total area covered by sea ice in this region has decreased by nearly half since satellite records began in the early 1980s.

The north-flowing ocean currents transport warm Atlantic waters into the Arctic Ocean via the Barents Sea. As a result, some parts of the Barents Sea have begun to resemble the Atlantic, a phenomenon known as Atlantification.

Sea ice typically covers the ocean's surface. Below this is a layer of cool fresh water, followed by a deeper layer of warmer water delivered to the Arctic by ocean currents from the Atlantic. Melting sea ice replenishes the freshwater layer that sits above the warmer Atlantic layer. With less sea ice, the amount of fresh water in the ocean decreases, causing the ocean to mix together and draw more Atlantic heat up to the surface. This can, in turn, cause more ice to melt. Global climate change caused by humans has accelerated the Atlantification process.

Consequences:

Increase in Lightning strikes

Storms and lightning strikes are uncommon in the area because they require heat to form a convection system. However, rapid warming has made heat available. Lightning strikes, which were once rare in the area, have increased eightfold in the last decade.

More extreme weather

The rapid warming of the Arctic region has already resulted in unusual weather, such as the first recorded rainfall at Greenland's Summit Station in August 2021 and back-to-back storms in July.

Impact on Marine Ecosystem

It has increased the abundance of Atlantic fish species while decreased the abundance of Arctic fish species.

Extreme Snowfall

The warming of the Barents Sea also caused an extreme snowfall event across most of Europe in 2018, dubbed the "Beast from the East." Around 140 gigatonnes of water evaporated from the Barents Sea, accounting for 88% of the snowfall in Europe during the event.

Extreme Weather Events

Extreme weather events south of the Arctic are linked to warming in the region via the Arctic jet stream. The jet stream is a band of winds that flows over the Arctic region, keeping cold Arctic air within the region. However, rapid and excessive warming is causing this jet stream to become wavier, causing cold air to interact more frequently with warm air from lower latitudes, resulting in extreme weather events.

e.g., In India, Arctic warming has been linked to scorching heatwaves in March, April, May, and June 2022 across most of the northwest, central, and eastern India. In 2018, warming in the northern polar region was also linked to unusual and deadly dust storms in north India.
Source: downtoearth