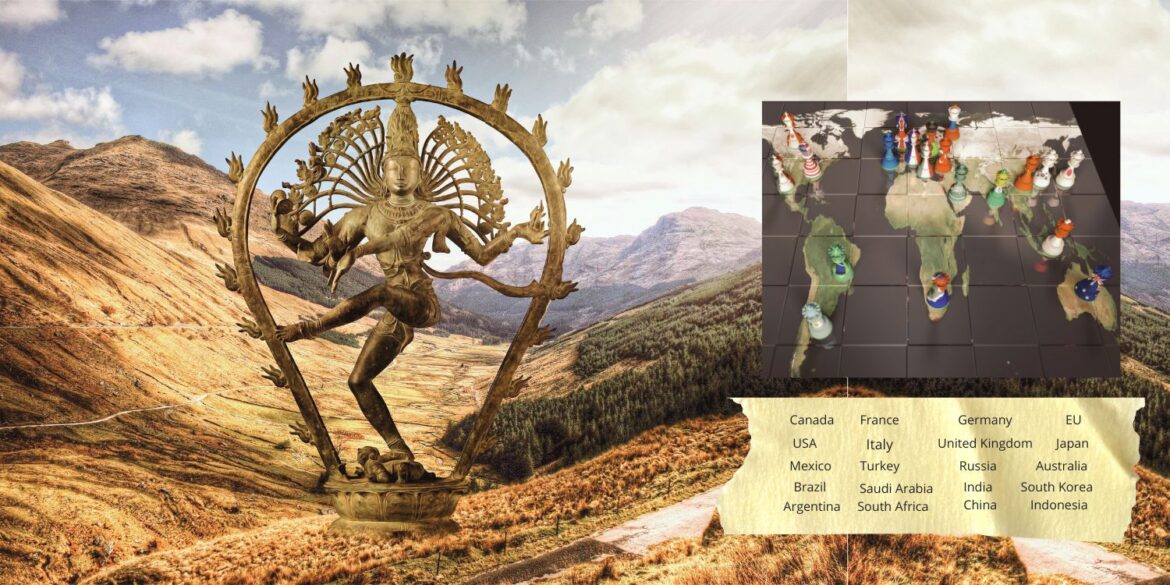 What is the G20 Summit?
Imagine a huge, 27-foot-tall statue of Lord Shiva at a big meeting of world leaders. This statue is not just any statue; it's made from a special metal mix. It is a symbol of ancient wisdom and the coming together of nations.
Now, Lord Shiva has a unique form when he dances. He's like a cosmic dancer, showing both creative and destructive sides. Picture this: he has four arms and is surrounded by flames! In his hands, he holds a drum and fire, which means he's in charge of making things and sometimes taking them away. Under his foot, there's a tiny figure that stands for illusion, and he's squashing it to show us the right way to go. Also, he's got a friendly smile on his face, as if he's watching over us.
But here's the cool part: They used an ancient technique called "lost-wax" casting. This is a technique that dates back thousands of years and was perfected by the Cholas. First, they made a detailed model of Lord Shiva in wax. Then they covered it with special dirt. When they heated it up, the wax melted away, leaving a hollow space. Finally, they poured in the metal mix to create the statue.
This whole thing was done by amazing artists from a place called Swamimalai in Tamil Nadu, India. They were inspired by special idols of Lord Shiva from a long time ago when the Chola rulers were in charge. These Chola rulers really loved art and built beautiful temples dedicated to Lord Shiva.
This big Shiva statue isn't just an artwork; it's a message. It reminds us that, no matter where we're from, we're all one big global family living on this planet. At the G20 Summit, it's like world leaders are doing a dance of diplomacy, trying to make the world better, just like Shiva's dance.
G20: Where World Leaders Dance with Diplomacy
Now, let's talk about the G20. It's like a big club where leaders from 19 powerful countries and the European Union meet to chat about money and other important world stuff.
The G20 has two groups: one for money stuff and another for planning meetings. The money group is led by finance ministers and bank leaders from each country. They talk about how to make the world's money work better. The planning group, called Sherpas, helps decide what the G20 talks about and makes sure everything runs smoothly.
Inside the G20, there are smaller groups that talk about specific things like jobs and trade. They meet throughout the year to figure out how to make things better. The G20 also invites regular people, like civil society groups, parliament members, and experts, to join in the conversation. They want to hear ideas from all over the world.
Also, the G20 doesn't have a permanent office or boss to organize things. Instead, the country that's in charge for a year gets help from the country that organized last year's G20 meeting and the country that will take charge next year. This trio of countries working together is called a "troika."
Right now, India is in charge of the G20. This year's theme, "One Earth, One Family, One Future," means they want everyone to work together like a family to take care of our planet. During India's presidency, the troika will comprise Indonesia, India, and Brazil, respectively.
The G20 members represent around 85% of the global GDP, over 75% of global trade, and about 60% of the world population.