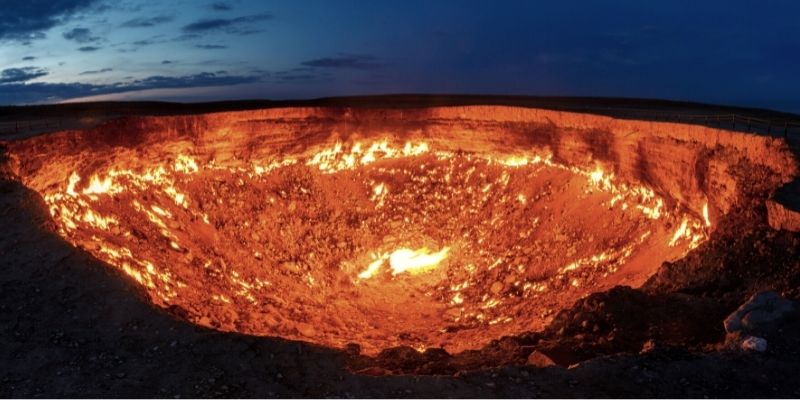 The crater has been burning in the Karakum Desert since 1971
Read more



The Darvaza gas crater was formed in 1971 due to a Soviet drilling rig accident that hit a gas cavern. The mishap caused the drilling rig to fall in and the ground underneath to collapse, leading to leakage of poisonous gases after a gas pocket ruptured.

The Soviets set fire to the crater to avert a potential environmental disaster, expecting it to burn out within a few weeks. Surprisingly, the raging pit is still burning 50 years later. The now 70-meter-wide, 20-meter-deep crater is a famous tourist attraction, particularly at night.

Turkmenistan

This crater, officially called "Shining of Karakum," is also known as Darvaza Gas Crater after the nearby town of Darvaza. Locals refer to it as "The Gates of Hell" due to the boiling mud and roaring, crimson flames that blanket the crater floor.

In January 2022, President Gurbanguly Berdymukhamedov ordered Turkmenistan's authorities to begin investigating ways to put out the fire. Adverse effects on the health of local residents, waste of precious natural gas resources, and damage to the environment are some of the reasons stated to put out this famous fire.

The Deputy Prime Minister of Turkmenistan is tasked with gathering scientists and finding solutions to extinguish the fire. There is no estimated time frame to extinguish the fire, and information on closing the Darwaza Crater is unknown.

It is worth mentioning that natural gas is one of the primary sources of income for Central Asian countries.
Source: CNN