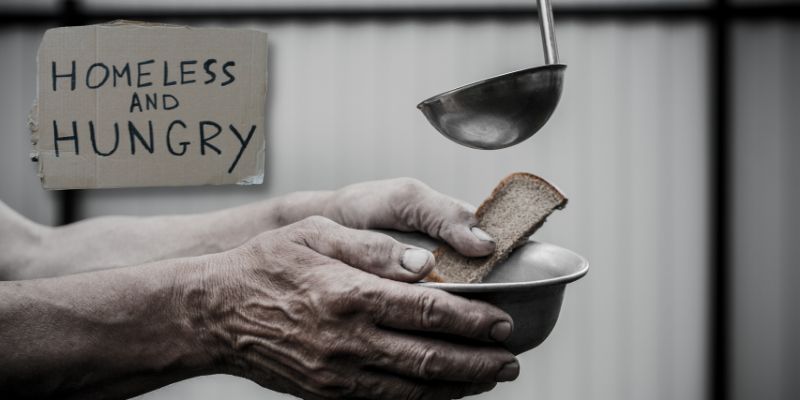 Hunger and Poverty
Read more



Global Multidimensional Poverty Index

The report was produced by the United Nations Development Programme (UNDP) and the Oxford Poverty and Human Development Initiative (OPHI).
It was first launched in 2010.
The index is a vital international resource that evaluates acute multidimensional poverty in over 100 developing countries.
The global MPI creates a deprivation profile for each household and person based on ten indicators covering health, education, and standard of living, and it includes both the incidence and intensity of poverty.
Within each dimension, all indicators are equally weighted.
A person is considered multidimensionally poor if she or he is deficient in one-third or more (that is, 33% or more) of the weighted indicators (out of the ten indicators). Extreme multidimensional poverty is defined as being deficient in one-half or more of the weighted indicators.
1.2 billion people — 19.19% — live in acute multidimensional poverty across 111 countries. Almost half of them live in severe poverty. Half of the poor (593 million) are children under the age of 18.
According to the report, the COVID-19 pandemic could set back the progress made in poverty reduction globally by 3–10 years.
However, the data does not reflect post-pandemic changes. According to the World Food Programme's most recent food security data, the number of people living in food crises or worse increased to 193 million in 2021.
India has by far the most poor people in the world, with 22.8 crores, followed by Nigeria with 9.6 crores.
Sub-Saharan Africa has the most poor people (579 million), followed by South Asia (385 million). Together, the two regions are home to 83% of the poor.

Global Hunger Index

The Global Hunger Index (GHI) measures and tracks global, regional, and national hunger.
It is prepared jointly by the Irish aid agency Concern Worldwide and the German organization Welthungerhilfe.
GHI scores are determined by the values of four component indicators:

Undernourishment (the proportion of the population with insufficient caloric intake),
Child stunting (the proportion of children under the age of five who have a low height for their age, reflecting chronic undernutrition),
child wasting (acute undernutrition in children under the age of five with low weight for their height), and
Child mortality (the mortality rate of children under the age of five).

The GHI score is calculated on a 100-point scale, with zero representing no hunger and 100 representing severe hunger.
The GHI is an annual report, and each set of GHI scores is based on 5-year data. The GHI scores for 2022 are calculated using data from 2017 to 2021.
Global hunger progress has largely stalled and is expected to worsen due to overlapping global crises—conflict, climate change, and the economic fallout of the COVID-19 pandemic, as well as the Russia-Ukraine war, which has increased global fuel, food, and fertilizer prices and is expected to "worsen hunger in 2023 and beyond."
In 2021, as many as 828 million people were undernourished.
Top and Worst Performers:

Belarus, Bosnia and Herzegovina, Chile, China, and Croatia are the top five performers in GHI 2022.
The index's bottom five countries are Chad, the Democratic Republic of the Congo, Madagascar, the Central African Republic, and Yemen.
India and Neighboring Countries: Among the South Asian countries, India (107) is ranked below Sri Lanka (64), Nepal (81), Bangladesh (84), and Pakistan (99). With the exception of war-torn Afghanistan, India performed worse than all other South Asian countries in the Global Hunger Index 2022.

Hunger Hotspots Report

It is a joint report by Food and Agriculture Organization and World Food Programme.
Afghanistan, Ethiopia, Nigeria, South Sudan, Somalia, Yemen, and other Horn of Africa countries are among the key hunger hotspots.
Acute Food Insecurity affects 222 million people in 53 countries/territories.
Key Drivers and Aggravating Factors: Conflict/insecurity, Displacement, Dry Conditions, Economic Shocks, Flood, Political Instability/unrest, and Tropical cyclone.
Source: Global Hunger Index and Multidimensional Poverty Index