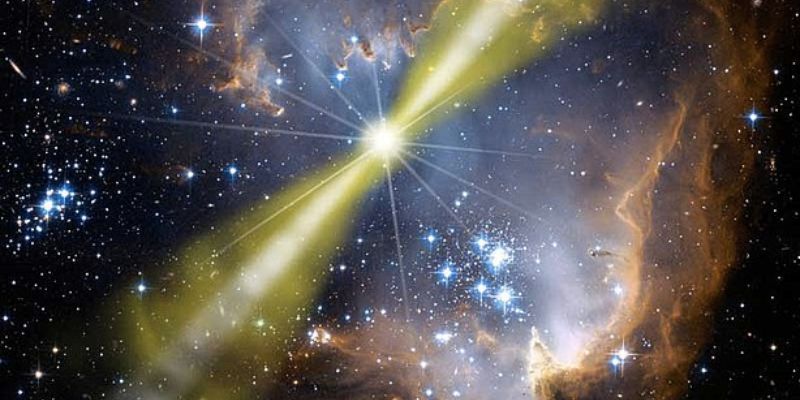 A strange explosion about 1 billion light-years away have shaken scientists' ideas about the most powerful events in the universe
Read more



For decades, scientists have been putting these explosions, which they call gamma-ray bursts, into two groups: long GRBs and short GRBs.

Long bursts produce gamma-rays, the light with the most energy, that last two or more seconds. They are thought to be caused by black holes that form at the centers of massive stars that are collapsing, followed by supernova explosions.

Long GRBs

When a much larger star than the Sun runs out of fuel, its core collapses and produces a black hole. A black hole is a place in space where the matter has become so compressed that it has created a gravity field from which even light cannot escape.

As matter swirls toward the black hole, some of it escapes in the form of two tremendous jets that fly forth in opposing directions at nearly the speed of light. GRBs are only detected when one of these jets happens to point directly toward Earth. Following the burst, the shattered star rapidly expands into a supernova. A supernova is an exploding star that has reached the end of its life cycle.

Short bursts, which last less than two seconds, are most likely created by two neutron stars colliding and collapsing into a black hole or by the merging of a neutron star and a black hole. This is followed by kilonovae, which are visible and infrared light flares.

According to researchers, two seconds is how long it takes in a merger for a black hole to form and eat up everything in its environment. But a recent event is making scientists change their minds. On December 11, 2021, NASA saw a gamma-ray burst that lasted for 50 seconds, followed by clear signs of a kilonova.The name of it is GRB 211211A. Scientists don't yet know how a burst caused by a neutron star merger could produce gamma rays for so long. It is very strange that this lasted a whole minute.

Kilonovae are recognized sources of heavy elements like iodine, which were necessary for the evolution of life on Earth. According to the researchers, the explosion created materials such as gold and platinum. It is thought that such kilonovae "are the main factories of gold in the universe."

However, scientists believed they were only related to short bursts. For the first time, GRB 211211A demonstrates that kilonovae can accompany both short and long bursts.

Scientists are still learning new things about the effects of these events on the cosmos after 50 years of studying them.