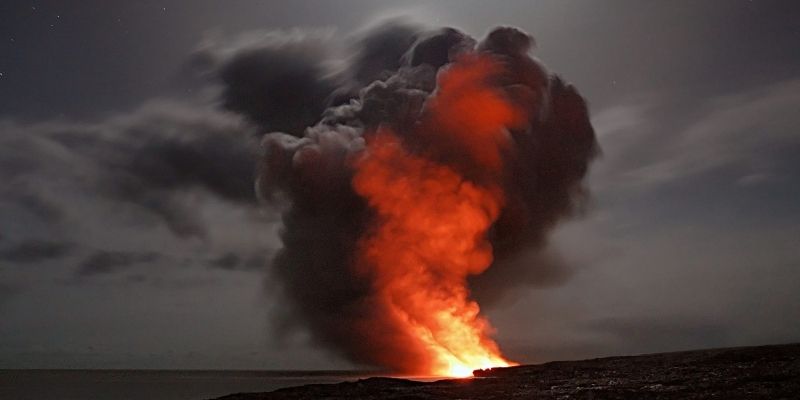 It is an Undersea Volcanic Eruption consisting of two small uninhabited islands, Hunga-Ha'apai and Hunga-Tonga
Read more



Startling satellite images show a large portion of a volcanic island near Tonga collapsing into the sea just before its eruption. There are approximately one million undersea volcanoes, most of which are located near tectonic plates. They spew not only lava but also ash. These settle on the ocean floor, resulting in the formation of underwater mountains that form on the ocean floor but do not reach the water's surface.

Tonga Island Image: Source

While the Hunga-Tonga-Hunga-Ha'apai volcano has erupted on a regular basis in recent years, nothing has compared to this most recent eruption. The eruption caused tsunami waves in Tonga and other parts of the world.

The Tonga Islands are located on the Ring of Fire. This region is home to most of the Earth's volcanoes and earthquakes. Volcanic hotspots are found where the Earth's tectonic plates collide.

Massive volcanic eruptions can sometimes cause temporary global cooling as sulphur dioxide is pumped into the stratosphere. However, in the case of the Tonga eruption, preliminary satellite measurements indicated that the amount of sulphur dioxide released would have only a minor impact.

It is one of the massive explosions that the volcano can produce roughly once every 1000 years. One of the reasons for it being highly explosive is the Fuel-Coolant interaction.

When magma slowly rises into seawater, a thin film of steam forms between the magma and the water. It acts as an insulator, allowing the magma's outer surface to cool. But this process doesn't work when magma is blasted out of the ground full of volcanic gas. When magma enters the water quickly, any insulation layers get disrupted, exposing hot magma to cold water. It is referred to by scientists as "fuel-coolant interaction," similar to weapons-grade chemical explosions. The magma is ripped apart by powerful blasts. A chain reaction begins, with new magma fragments exposing new interior surfaces to water, and the explosions continue, eventually jetting out volcanic particles and causing supersonic blasts.
Source: Aljazeera