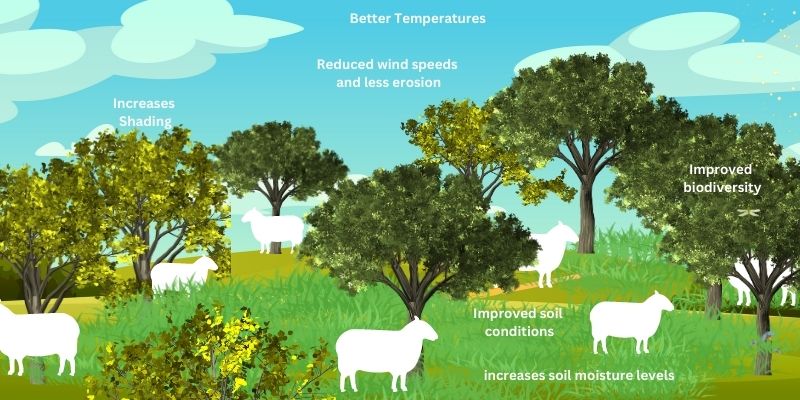 With the world facing a worrying decline in natural resources and forests, Silvopasture systems have come to the rescue! 
Imagine a magical place where trees and animals team up. Silvopasture is a brilliant and innovative way of using land that brings together trees, forage (plants that livestock can eat), and livestock like cows or sheep all in one setting.
In this enchanting system, farmers plant trees alongside their pastures (land covered with grass and other low plants suitable for grazing animals), thus creating a dreamy scene. The trees offer shade to the animals, sheltering them from the scorching sun, wind, and wild weather. It's like having a leafy umbrella to keep our animal friends cozy and content.
But that's not all! These clever trees also provide a delicious buffet for the animals. As the branches sway in the breeze, they drop tasty treats like nuts and fruits, creating a natural feast for our four-legged companions. The animals can munch and munch; feeling as if they're in a never-ending picnic. Just imagine as trees drop their leaves and they become nature's compost, enriching the soil with all the right nutrients. It's a gourmet feast for the earth, too!
And guess what? The magic doesn't stop there! The animals lend a helping hoof to the trees by providing them with natural fertilizer. Yep, you heard that right! The animals offer their special "presents" to the soil, making it rich and fertile for the trees to grow big and strong.
But wait, there's more! Silvopasture systems are true magicians when it comes to water. They enhance soil infiltration rates, making sure the land is a perfect sponge, soaking up every precious drop. They store water like a precious treasure for dry spells.
Let's understand how nutrient recycling works in this system
Well, it's like a big circle! Imagine the Earth as a giant recycling system where everything is connected. In this system, living things such as plants and animals need certain nutrients to grow and stay healthy.
Plants take in nutrients from the soil to grow big and strong. Animals, like cows or deer, eat these plants to get the nutrients they need. When plants and animals die or produce waste, their nutrients go back into the soil.
But, the story doesn't end there. Microscopic helpers in the soil, like tiny bacteria and fungi, break down the remains of plants and animals. As they do this, they release the nutrients back into the soil, ready to be taken up by new plants.
Here's the cool part: Trees in silvopasture systems are superheroes of this recycling process. Their extensive root systems grab hold of nutrients from deep in the soil. When their leaves fall and decay, they add even more nutrients to the ground. This makes the soil healthier and more stable, which is fantastic for the environment.
Now, why does this matter? Well, healthy soil means more productive and happy plants, which means more food for animals and livestock. Plus, all this recycling helps combat erosion, which is like protecting the Earth's skin.
And guess what? The more trees we have in these silvopasture systems, the more carbon they can soak up from the atmosphere. They have this extraordinary ability to absorb and lock away five to ten times more carbon than regular pastures without trees. Talk about fighting climate change! In this way, silvopasture systems aren't just beautiful and whimsical; they're also super eco-friendly.
So, in a world where natural resources are dwindling, silvopasture systems are the true champions, stepping up to protect our planet, fight climate change, and create a haven for all living beings. With their extraordinary powers, they're here to save the day and make the Earth a better place for generations to come!