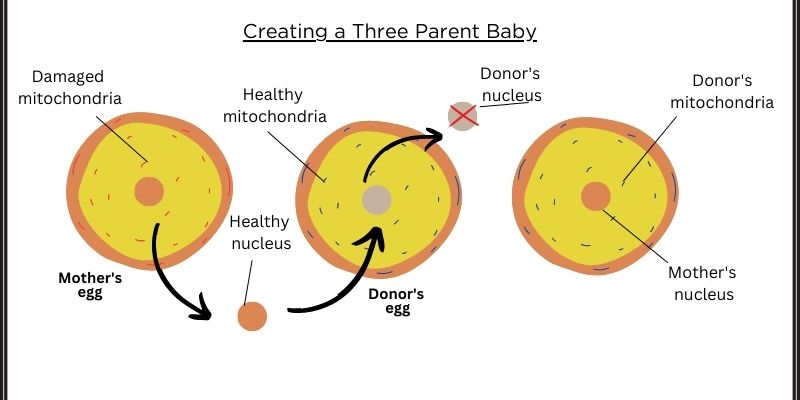 Mitochondrial Replacement Therapy (MRT)
Read more



A baby has been born in the UK using a technique called mitochondrial donation treatment (MDT) (popularly called 'Three Parents Baby'), which involves using the DNA of three people in an effort to prevent children from inheriting incurable diseases.

People have two types of DNA in their cells: nuclear DNA, which is inherited from both parents and mitochondrial DNA (mtDNA), which is inherited only from the mother. In other words, mitochondria are small structures within cells that produce energy and have their own set of genes, separate from the nuclear DNA. When a woman has a mitochondrial disorder, MRT can be used to create embryos with healthy mitochondria.

The process of MRT involves removing the nucleus from the mother's egg, which contains the majority of her genetic material, and transferring it into a donor egg that has had its own nucleus removed. The resulting egg contains the nuclear DNA from the mother and the healthy mitochondria from the donor. This technique ensures that the baby inherits healthy mitochondria while carrying the genetic material from both biological parents. The procedure is specifically intended for couples who wish to have their own genetic child but do not want to use a donor egg.

It's important to note that while the resulting child would have genetic material from three individuals—the nuclear DNA from the mother and father and the mitochondrial DNA from the donor—the contribution of the mitochondrial DNA to an individual's traits and characteristics is relatively limited compared to nuclear DNA. This reconstructed egg is then fertilized with the father's sperm and implanted into the mother's uterus for pregnancy.

By using MRT, the goal is to prevent the transmission of mitochondrial disorders, which can cause a wide range of medical conditions affecting various organs and systems in the body. Approximately 1 in 5,000–10,000 children are born each year with mitochondrial disease.

It's important to note that MRT is a relatively new and highly regulated technique. It is currently only legally allowed in a few countries and is primarily used in cases where there is a significant risk of passing on severe mitochondrial disorders. Ethical, scientific, and legal considerations surround the use of MRT, and it continues to be a subject of debate and ongoing research.

What is in-vitro fertilisation (IVF)? In-vitro fertilization (IVF) is a type of assisted reproductive technology (ART) that involves the fertilization of an egg with sperm outside the body in a laboratory setting.