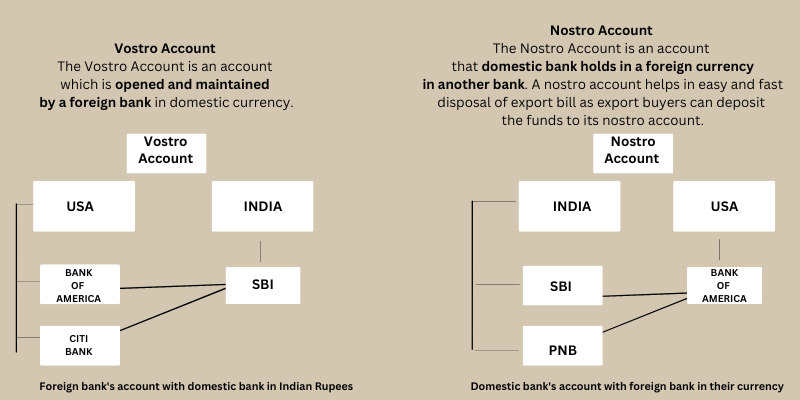 Different types of accounts for international trade
Read more



Nostro Account: A nostro account is a bank's account in another bank. It enables customers to deposit funds into the bank's account at another bank. It is frequently used when a bank does not have any branches in a foreign country. Nostro is a Latin word that means "ours."

Let's presume bank "X" does not have any branches in Russia, but bank "Y" does. Now, to receive the deposits in Russia, "X" will open a Nostro account with "Y."
Now, if any customers in Russia want to send money to "X," they can deposit it into X's account in "Y." "Y" will transfer the money to "X."
The main difference between a deposit account and a Nostro account is that the former is held by individual depositors, while foreign institutions hold the latter.

Vostro Account: It is an account that is opened and maintained by a foreign bank in domestic currency. The word vostro means "yours" in Latin. For the bank that opens the account, a Nostro account is a Vostro account.

In the above example, the account will be called a Vostro account for bank "Y." The Vostro account accepts payments on behalf of the account holder's bank.
If a person deposits money in the Vostro account, it will be transferred to the account holder's bank.
Nostro and Vostro accounts are held in a foreign currency.
Vostro accounts enable domestic banks to provide international banking services to their clients who have global banking needs.
Vostro account services include wire transfers, foreign exchange transactions, deposit and withdrawal capabilities, and international trade streamlining.

Below is defined a mechanism to settle international transactions in domestic currency to promote the growth of global trade, with an emphasis on exports, as well as pushing the domestic currency as an international currency. It is also likely to allow trade with a sanctioned country like Russia. Furthermore, in the face of persistent local currency weakness, this mechanism tries to reduce demand for foreign money by supporting domestic currency settlement of trade flows. Russian banks, for example, open vostro accounts in India.
Source: TH