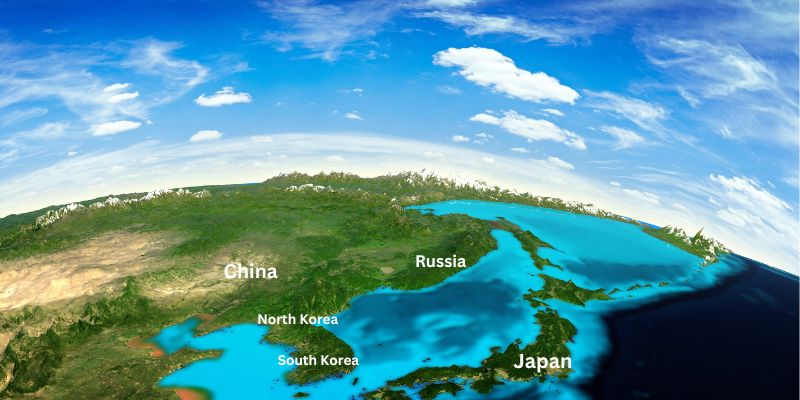 North Korea's recent barrage of missile tests
Read more



Tensions on the Korean Peninsula have risen sharply in response to North Korea's recent barrage of missile tests, prompting South Korea, the United States, and Japan to conduct joint drills.

What is the conflict?

The Japanese occupied Korea between 1910- 1945.
When Japan got defeated in the Second World War, the Allied forces agreed to establish a "four-power trusteeship over Korea" consisting of the USA, Great Britain, the USSR, and China at the Yalta Conference (1945).
But, the USSR invaded Korea and took control of the north. The South remained under the rest of the allies, mainly the USA.
The two regions were divided along the 38th parallel north, which still continues to be the official border dividing the two Koreas.
In 1948, the Republic of Korea (South Korea) and the Democratic People's Republic of Korea (North Korea) were established.
As both tried to enhance their reach, territorially and ideologically, the Korean Conflict emerged between the two nations.
Korean War—In 1950, North Korea, backed by the USSR, launched an attack on South Korea and occupied most of the country. In response, the United Nations force led by the US retaliated.
In 1951, US forces crossed the 38th parallel, triggering China's entry in support of North Korea.
To prevent further escalation, peace talks began later in 1951.
Finally, in 1953, the Korean Armistice Agreement was signed, leading to an official ceasefire but without any peace treaty. Thus, the war officially never ended.
The Korean Demilitarized Zone (DMZ) was established. It is a strip of land across the Korean Peninsula that acts as a buffer zone between North Korea and South Korea. The DMZ roughly follows the 38th parallel, the original demarcation line between North Korea and South Korea at the end of World War II.
In December 1991, North and South Korea signed an agreement to refrain from aggression.
The Inter-Korean Liaison Office in Kaesong, which was established in 2018, was recently demolished by North Korea. The building served as a de facto embassy and a direct line of communication for the two countries in the absence of formal diplomatic ties.

What exactly is the conflict between the United States and North Korea?

During the Cold War, the United States extended its Nuclear Umbrella (a guarantee of support in the event of a nuclear attack) to its allies, South Korea and Japan.
North Korea left the Non-Proliferation Treaty (NPT) in 2003 and, under current leader Kim Jong-un, increased nuclear missile testing.
In response, the United States began deploying THAAD (Terminal High Altitude Area Defense) systems in South Korea in March 2017.
The territorial conflict that began between North and South Korea has evolved into a conflict between the United States and North Korea.
Source: TH