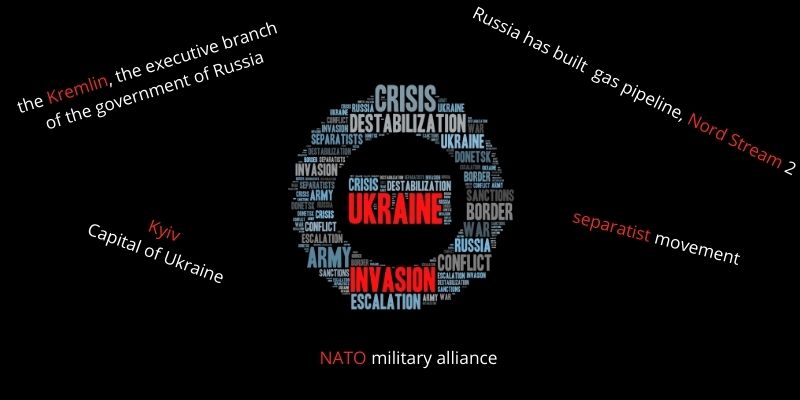 The complete picture
Read more



Ukraine was part of the Soviet Union. Today, Russia and Ukraine are separate countries but share familial and cultural links emotionally exploited for electoral and military purposes. Ever since Ukraine split from the Soviet Union, both Russia and the West have tried for greater influence in the region.

In 2014 came the invasion of Crimea by Russia from Ukraine. Russia said it did this on the pretext of defending its interests and Russian-speaking citizens in the area.

Since 2014, eastern Ukraine's Donbas region (the Donetsk and Luhansk regions) has also faced a pro-Russian separatist movement. As per Ukraine, the movement is supported by the Russian government. A peace deal was signed between Ukraine and Russia in Minsk in 2015, brokered by France and Germany, but there have been repeated ceasefire violations. Thousands of people have died in the eastern region of Ukraine.

Ukraine asked NATO (North Atlantic Treaty Organization) to speed up its membership ( NATO is a US-led military alliance). Russia had condemned such a move and demanded to bar Ukraine from joining the NATO military alliance.

In 1949, the USA formed NATO to counter the threat of post-WW2 Russian expansion in Europe. In 1955, Soviet Russia responded to NATO by creating its own military alliance called the Warsaw Pact. Following the collapse of the Soviet Union in 1991, several Warsaw Pact countries became NATO members.

President Putin claims Western powers are using the NATO alliance to surround Russia, and he wants NATO to cease its military activities in eastern Europe. He has long argued the US broke a guarantee it made in 1990 that NATO would not expand eastwards.

Ukraine accused Russia of deploying military personnel around its northern and eastern borders. However, Russia denies it is planning an attack. But the build-up of tens of thousands of Russian troops on Ukraine's borders has increased tensions and escalated fears of an invasion.

The NATO alliance – which includes the US, the UK, France, Canada and Germany – is stepping up military readiness to aid Ukraine. NATO Members agree to come to one another's need in the event of an armed attack against any one member state.

Experts believe that a full-scale conflict between the two sides (Russia – Ukraine (and western powers)) is unlikely. But the West believes Russia will strike.

If it does strike, what this war will look like?

Maybe Russia will go for a massive cyber-attack on Ukrainian cyberinfrastructure – electrical grids, plunging cities into darkness and destroying data on government computers. Russian forces can also attack from Belarus, Russia, Donbas (Ukrainian territory held by pro-Russian forces) and Crimea.

Current Situation

Russia has built a gas pipeline, Nord Stream 2, which will take Russian natural gas directly to Germany. But supplies to Europe through Nord Stream 2 are yet to start as the pipeline is awaiting approval from European authorities. Several European countries and the United States remain opposed to the pipeline, which they claim will give Russia more influence. But major European businesses have invested heavily in Nord Stream 2. The US has threatened to halt the pipeline opening that will link Russian gas with Western Europe if Russia invades Ukraine.

Ukraine – Russia conflict

The US also rejected Russia's key demand to bar Ukraine from joining the NATO military alliance. The US refused to do so, saying that as a sovereign nation, Ukraine should be free to decide on its own security alliances. The USA has offered Russia a "diplomatic path forward".

It has left the countries in a stand-off, with tens of thousands of Russian troops ready to invade Ukraine. Soldiers and civilians in eastern Ukraine are waiting with helpless anticipation to see if war comes. They understand that politicians in distant capitals are deciding their fate. What will happen remains to be seen.
Source: BBC