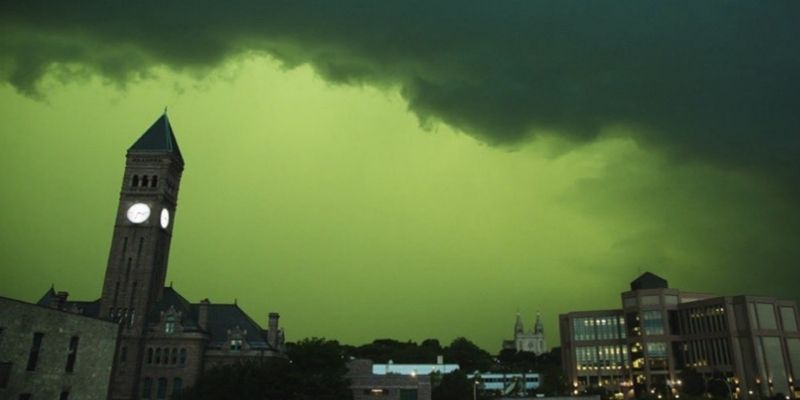 The USA experienced a "derecho," a windstorm
Read more



Recently, a few states of the US were hit by a storm system called a Derecho, turning Sky Green. "Derecho' is a hot weather phenomenon.

It is found to be associated with fast-moving thunderstorms or showers. Because of the interaction between light and the enormous amount of water the severe thunderstorms contain, the sky appears "green." This storm can cover hundreds of miles.

According to a Washington Post report, the large raindrops and hail scatter all but the blue wavelengths, allowing primarily blue light to penetrate below the storm cloud. This blue then combines with the afternoon or evening sun's red-yellow to produce green.

The name is derived from the Spanish word "la derecha," which means "straight." In contrast to a tornado, straight-line storms have no rotating thunderstorm winds.

The leafy green color captured everybody's attention, who compared it to "something straight out of" Netflix's sci-fi series. Even many experienced storm chasers claim to have never witnessed such atmospheric optics.

Derechos have also been documented elsewhere in other parts of the world. In 2010, Russia witnessed its first documented derecho. They have also swept through Germany and Finland, as well as Bulgaria and Poland more recently.
Source: financialexpress