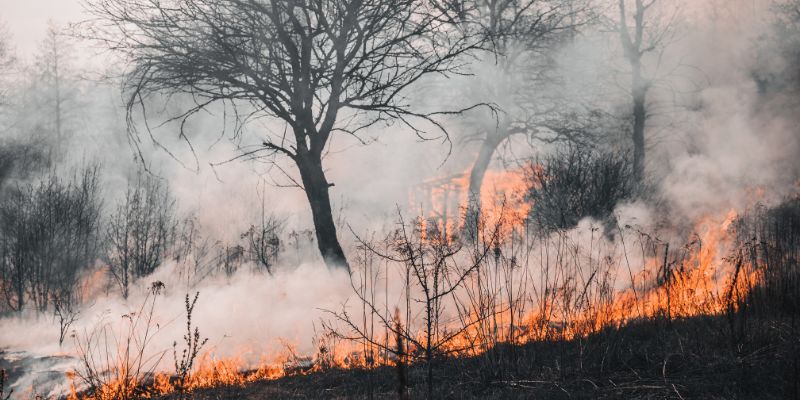 What is wildfire?
A wildfire is a large fire that breaks out unpredictably in combustible environments and often burns uncontrollably over a large area for an extended period of time.
Wildfires require the right climatic conditions, burnable fuel, and a spark. Rising temperatures due to climate change suck moisture out of plants, creating dry fuel. Now, the spark is sometimes caused by lightning.
Other times the spark is caused by accident, for example, rolling stones or the friction of bamboo swaying due to high wind speed. The third reason can be the population that sets fires on their land, but strong winds cause these fires to rage out of control.
In Canada, intense wildfires can be a real challenge. It's like facing a powerful opponent that's hard to control. But why does Canada deal with these intense wildfires so often?
One of the main reasons is the weather. Canada can have hot and dry summers with scorching temperatures and little rain. It's like a recipe for disaster. Just like how things get really dry in a desert, the lack of rain and high temperatures make the forests in Canada very dry too. This makes it easier for fires to start and spread quickly.
Another reason is the fuel for the fire. No, we're not talking about gasoline or anything like that. In the world of wildfires, fuel means all the dry stuff on the ground that can catch fire. Things like fallen leaves, dead grass, and fallen trees become like little sparks waiting to ignite. And in Canada, with its big forests and lots of trees, there's plenty of fuel for the fires to feast on.
But there's something else we need to talk about—climate change. The Earth's temperature is rising because of things like pollution and greenhouse gases. This has a direct impact on wildfires. Also, lightning occurs more frequently when it is hotter. Therefore, lightning is indeed a common ignition source for wildfires in many parts of Canada, including the boreal forest in the north. Lightning-caused fires can be particularly challenging because they can start in remote or hard-to-reach areas, making them difficult for firefighters to quickly respond to.
So, Canada battles intense wildfires because of hot, dry summers, lots of fuel to burn, gusty winds, and the effects of climate change. Although the usual timeframe for the Canadian wildfire season is from May to October, the extent of destruction observed so early in the season is uncommon. Only one month into the season, Canada is heading towards experiencing its most devastating wildfire season on record.
It's a tough fight, but by understanding these reasons and being mindful of our actions, we can help protect our beautiful Canadian landscapes from the fury of wildfires.