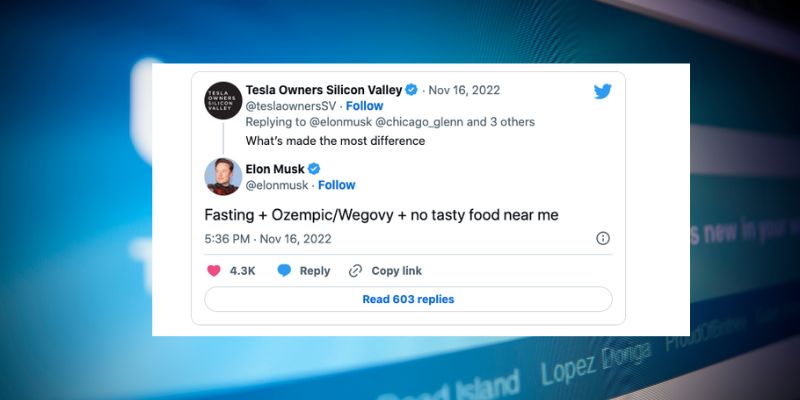 Is it an easy way to lose weight?
Read more



Elon Musk tweeted about losing 13.6 kg (30 lbs) because of Ozempic/Wegovy, fasting, and staying away from "tasty food." The drug is also attracting a lot of attention on social media platforms such as TikTok as an easy way to lose weight.

The remarkable weight loss of Kim and Khloe Kardashian and other celebrities has been rumored to be the product of an injectable medicine, Ozempic, that's been called "Hollywood's worst kept secret." On TikTok, the hashtag "Ozempic" has already received over 360 million views.

What is Ozempic?

Ozempic and Wegovy are the brand names for an anti-diabetes medicine called semaglutide. The medication is used to treat patients with type-2 diabetes and manage their blood sugar.

Ozempic is not insulin. In fact, the drug helps your pancreas produce more insulin when your blood sugar is high. "Unlike insulin, Ozempic rarely causes low blood sugar," says Lydia Alexander, M.D., of California.

Besides regulating glucose levels in the body, the drug also helps in weight loss, reduces the risk of hypoglycemia, and improves heart health and kidney function. According to reports, it makes people feel full for longer while also decreasing appetite and food cravings.

Although Ozempic is not a weight-reduction medication, evidence suggests that those who use it may lose a little weight while on it. In reality, the active ingredient in Ozempic, semaglutide, is FDA-approved at greater doses for the treatment of obesity and other weight-related medical conditions under the brand name Wegovy.

In 2022, the demand for both Ozempic and Wegovy increased dramatically. Because of the Wegovy shortage, coupled with Ozempic's weight loss effects going viral on social media, people without type 2 diabetes have begun using Ozempic off-label for weight loss. According to The Guardian, the off-label use of Ozempic has resulted in a worldwide shortage.

Experts say Ozempic is a safe medication, but not for everyone. Before taking the drug, speak with a medical practitioner.