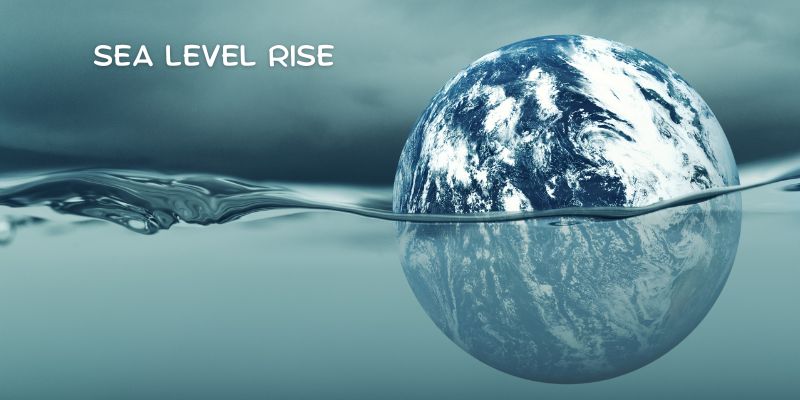 Scientists are studying the huge Thwaites Glacier in Antarctica (also known as Doomsday Glacier)
Read more



The report "Global Sea-level Rise and Implications" from the World Meteorological Organization (WMO) says that India, China, Bangladesh, and the Netherlands are the countries that are most at risk from rising sea levels.

The rising sea level is a threat to many large cities on all continents. These cities include Shanghai, Dhaka, Bangkok, Jakarta, Mumbai, Maputo, Lagos, Cairo, London, Copenhagen, New York, Los Angeles, Buenos Aires, and Santiago.

Since at least 1971, it's likely that humans were the main cause of these increases. This is because of the rise in greenhouse gases in the atmosphere, especially carbon dioxide, which is caused by things like burning fossil fuels and cutting down trees. Even if the rise in temperature is kept to 1.5 degrees Celsius above pre-industrial levels, the sea level will still rise by a lot.

Contributors to Sea Level Rise (SLR): 

Thermal expansion, which happens when water gets warmer and expands, is responsible for 50% of sea level rise (SLR) from 1971 to 2018.
Loss of ice from glaciers causes 22% SLR,
loss of ice sheets causes 20% SLR, and
changes in how much water is stored in the land cause an 8% SLR.

Impacts:

Aquifer and agricultural soil contamination with salt;
coastal flooding led to habitat loss for aquatic species;
threatens coastal infrastructures, human lives/livelihoods, etc.
Greenland and West Antarctica will lose almost all of their ice sheets if temperatures continue to rise by 2-3 degrees Celsius.
More water and heat in the ocean are making cyclones get stronger quickly.
The report showed how global changes in sea level caused by climate change and the melting of large ice sheets would affect small island countries and densely populated low-lying cities.

A new study published in Nature Communications says that keeping the global temperature rise to the 2 degrees Celsius goal set by the Paris Agreement and required by the UN is probably not enough to stop the sea level from rising faster over the next 100 years.

Scientists who study the huge Thwaites Glacier (also called the "Doomsday Glacier") in Antarctica say that warm water is getting into its weak spots, which makes the melting caused by rising temperatures worse.

Thwaites glacier is a fast-moving glacier in West Antarctica. It is also known as the "Doomsday glacier."
It takes up about the same amount of land as Great Britain.
Because of climate change and changes in how the ocean moves, the glacier is quickly losing ice into the water.
If the Thwaites completely fell apart, the sea level could rise by more than two feet, which would be enough to destroy coastal communities all over the world. But the Thwaites is also a natural dam for the ice around it in West Antarctica. Scientists think that if the Thwaites broke, the sea level around the world could rise by about 10 feet.

Global initiatives:

Paris Agreement: It tries to keep the rise in global temperatures from pre-industrial times to now "well below" 2°C and "strives" to keep it to 1.5°C.

UN SDGs: These are 17 broad goals for achieving sustainable development in society. Amongst them, Goal 13 exclusively focuses on tackling climate change.

Glasgow Pact: It was finally adopted by 197 parties at the COP26 talks in 2021. It has stressed that the next 10 years are the most important if we want to reach the 1.5-degree goal.

Sharm-El-Sheikh Adaptation Agenda (at COP 27): It lays out 30 Adaptation Outcomes that will help 4 billion people who live in the most climate-vulnerable communities become more resilient by 2030.
Source: DTE