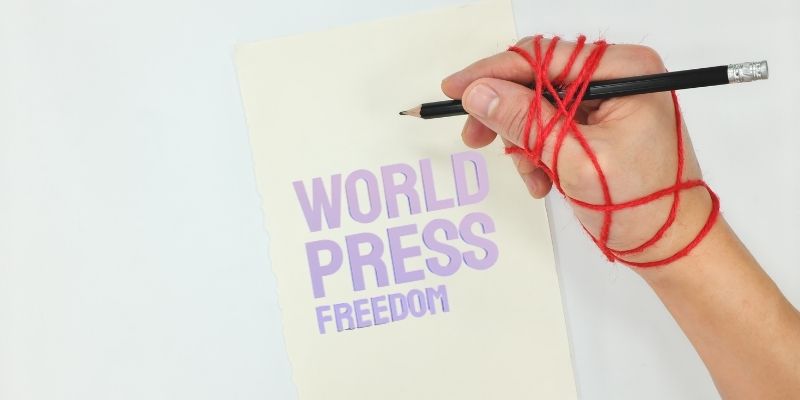 On the World Press Freedom Day (WPFD) (3rd May), the World Press Freedom Index was published by Reporters Without Borders (RSF)
Read more



Reporters Sans Frontières (RSF) or Reporters Without Borders has released the World Press Freedom Index every year since 2002. RSF is a non-profit organisation based in Paris.

The Index ranks countries and regions according to the freedom available to journalists. However, it is not an indicator of the quality of journalism.

Scoring Criteria: The Index's rankings are based on a score ranging from 0 to 100 that is assigned to each country or territory, with 100 being the best possible score (the highest possible level of press freedom) and 0 the worst.

Evaluation Criteria: Each country or territory's score is evaluated using five contextual indicators: political context, legal framework, economic context, sociocultural context, and safety.

Highlights

The report reveals an increase in "polarisation" amplified by information chaos, that is, media polarisation fuelling divisions within countries, as well as polarisation between countries.
Norway (1st), Denmark (2nd), Sweden (3rd), Estonia (4th), and Finland (5th) took the top positions.
North Korea remained at the bottom of the list of 180 countries. 
Russia was placed at 155th position.
India placed at 150th position. Nepal climbed up by 30 points in the global ranking at 76th position. The Index placed Pakistan at 157th position, Sri Lanka 146th, Bangladesh 162nd, and Myanmar at 176th position.
China was ranked at 175th position.
This year's Index classifies the situation as "very bad" in a record 28 nations, while 12 countries, including Belarus (153rd) and Russia (155th), are on the Index's red list (indicating "very bad" press freedom situations). Myanmar (176th), where a February 2021 coup set back journalistic freedom by ten years, is among the world's ten worst countries for press freedom, along with China, Turkmenistan (177th), Iran (178th), Eritrea (179th), and North Korea (180th).
Source: RSF