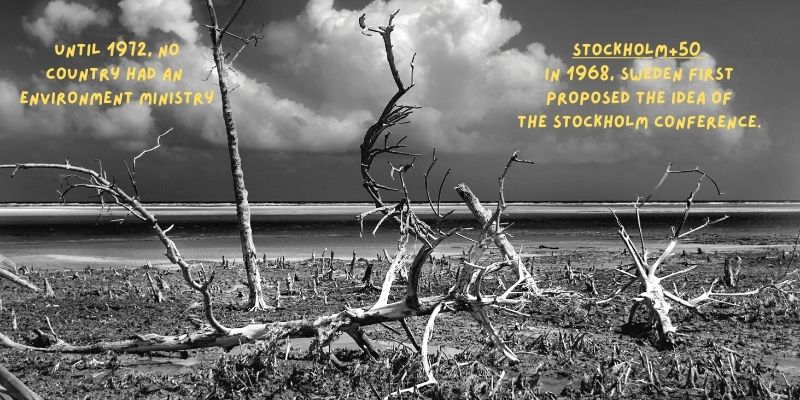 What is Stockholm Conference, 1972? 
Read more



Stockholm+50, an international meeting, is being held in Stockholm, Sweden. It will mark the 50th anniversary of the 1972 United Nations (UN) Conference on the Human Environment (also known as the Stockholm Conference), which for the first time made the environment a pressing global issue. The United Nations General Assembly will host this international meeting.

Background: 

In 1967, a research study published actual world temperature estimations based on CO2 levels. Furthermore, it was predicted that doubling CO2 levels from current levels would result in a nearly 2°C rise in global temperature. Sweden proposed the Stockholm conference for the first time in 1968. Climate change was first discussed in the UN General Assembly using emerging scientific evidence.

The UN Conference on the Human Environment was held in Stockholm from June 5th to June 16th, 1972.

Since Sweden was the first to propose the idea of the Stockholm Conference, it is also termed the "Swedish Initiative." 

The theme was 'Only One Earth.' 

122 countries participated in the conference.

The Stockholm Declaration was adopted by 70 of the 122 participating countries, the majority of which were developing and poor countries.

The Stockholm Declaration included 26 principles that signaled the start of a dialogue between developed and developing countries.

This helped to strengthen the "interconnections between development, poverty, and the environment."

The three dimensions of this conference were:

Countries agreed to refrain from "harming each other's environment or areas beyond national jurisdiction."

A plan of action to investigate the threat to the Earth's environment.

Establishment of the United Nations Environment Programme (UNEP) to foster international cooperation.

Significance and outcomes of the Stockholm Conference: Until 1972, no country had an environment ministry. Environmental issues such as species extinction and mercury poisoning began to make headlines after 1972, and public awareness grew. Many of today's environmental conventions can be traced back to the Stockholm Declaration.

– United Nations Framework Convention on Climate Change (UNFCCC)
– United Nations Convention to Combat Desertification (UNCCD)
– Convention on Biological Diversity (CBD)

What are the Obstacles?

From the very beginning, global politics had a negative impact on the conference.

Some countries expressed concern about rich countries' dominance, claiming that the policies are more beneficial to wealthier, industrialized nations.

Countries' lack of coordination has contributed to the world warming by at least 3 degrees Celsius above pre-industrial levels by 2100. This is double the 1.5 degree Celsius increase mandated by the Paris Agreement.

Poverty is the biggest roadblock in the way of adopting sustainable measures for a healthy environment, as poverty cannot be eradicated without the use of science and technology.

Unless the developing countries are in a position to provide employment and meet the people's daily necessities, the policies toward a sustainable environment can't be implemented appropriately.
Source: UN