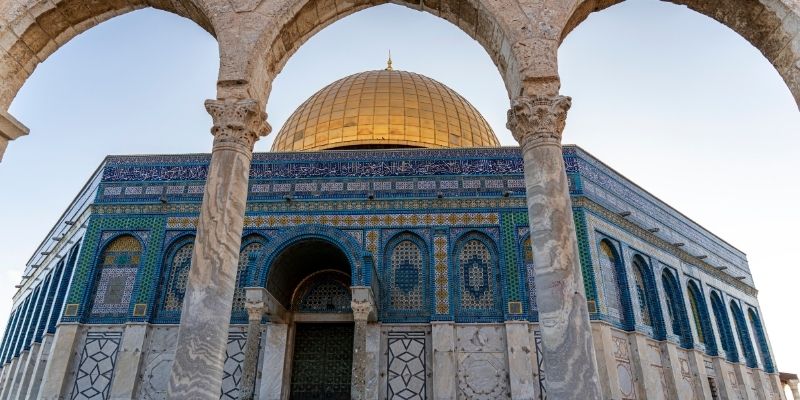 Tensions heightened during the Muslim holy month of Ramadan, coinciding with the Jewish celebration of Passover
Read more



Israeli police have clashed with Palestinian protesters in the latest violence at Jerusalem's Al-Aqsa mosque compound. The UN has voiced deep concern.

Al-Aqsa Mosque is a walled compound inside the Old City in Jerusalem and is the site of two structures. 

The whole site also considered as Al-Aqsa mosque
The whole site is also known as Temple Mount/ Haram al-Sharif: Source

The site consists of The Dome of the Rock to the north and the Al-Qibli Mosque to the south. To the southwest is the Western Wall, formerly referred to as the 'Wailing Wall,' a place for Jews who believe it to be the only surviving structure of its temple and the holiest site in Judaism (religion of the Jewish people). In Islam, the Dome of the Rock is an important Islamic shrine, believed to be where the Prophet Muhammad ascended to heaven. Before modern borders were drawn up in the region, pilgrims to the Muslim holy cities of Mecca and Medina would stop over in Jerusalem to pray at this mosque.

After Mecca and Medina, most Muslims worldwide consider Jerusalem the third holiest place on Earth. The al-Aqsa Mosque is one of Jerusalem's most recognized monuments.

Jerusalem has been at the center of the Israeli-Palestinian conflict. The Israelis captured the al-Aqsa mosque and the rest of East Jerusalem during the 1967 war and have even expanded settlements in East Jerusalem since its capture.

Although Israel granted jurisdiction of the mosque and complex to an Islamic waqf – "endowment" – Israel retains control of the premises, and security personnel patrol and conduct searches on a daily basis. Israeli authorities have allowed Jews to perform prayers at the Western Wall but not inside al-Aqsa.

Therefore, the mosque, known to Muslims as the Noble Sanctuary and to Jews as the Temple Mount, is a sacred site for both religions. Since the Israeli occupation of East Jerusalem began in 1967, the site has been the subject of contention between Muslim worshippers and those who want to restore full Jewish control over the area.
Source: The Guardian