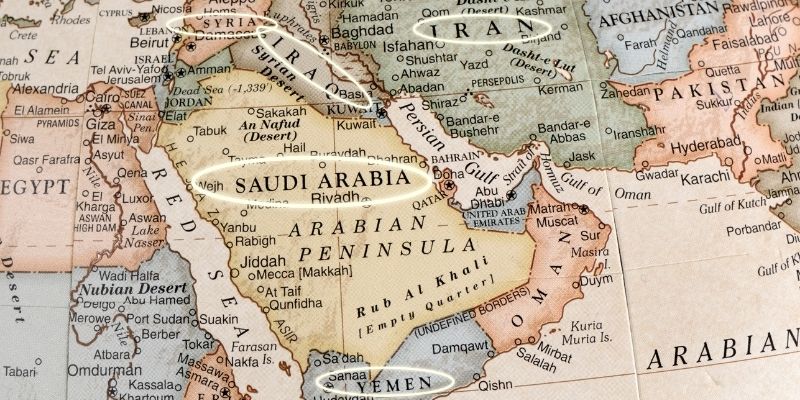 It has prompted the Iranian government to suspend talks with Saudi Arabia
Read more



Recently, Saudi Arabia has mass executed 81 people, including seven Yemenis and one Syrian national, for crimes related to terrorism and other capital crimes. Saudi Arabia is among the nations that carry out the highest numbers of executions globally, along with China, Iraq, Vietnam, and Iran.

It has prompted the Iranian government to suspend talks with the country. Both countries have had tense diplomatic relations since a long time ago.

Regional rivals Iran and Saudi Arabia, which severed diplomatic ties in 2016, launched direct talks hosted by Iraq in 2021. They have held four rounds of talks in Iraq.

What is the Background of the Saudi Arabia-Iran Conflict?

Religious differences dating back centuries have soured relations between Saudi Arabia and Iran. They each follow one of Islam's two major sects. Iran is predominantly Shia Muslim, whereas Saudi Arabia regards itself as the dominant Sunni Muslim power.

Historically, Saudi Arabia, a monarchy and the birthplace of Islam where Mecca (birthplace of Prophet Muhammad) and Medina (the place where he is buried) are located saw itself as the Muslim world's leader. However, it was challenged in 1979 by the Islamic revolution in Iran, which created an alternative type of state.

Saudi Arabia and Iran, two powerful neighbors, are engaged in a bloody battle for regional dominance. Uprisings in the Arab world (following the Arab Spring in 2011) caused political unrest throughout the region. Iran and Saudi Arabia used the upheavals to expand their influence, most notably in Syria, Bahrain, and Yemen, raising mutual suspicions even further. Furthermore, external powers such as the United States and Israel have played a significant role in worsening the conflict between Saudi Arabia and Iran.

The Arab Spring was a series of pro-democracy uprisings that engulfed a number of predominantly Muslim countries, including Tunisia, Morocco, Syria, Libya, Egypt, and Bahrain.

Iran and Saudi Arabia are not fighting directly, but they are involved in a number of proxy wars (conflicts in which they support opposing sides and militias) throughout the region. For Example, Houthi rebels in Yemen. Saudi Arabia accuses Iran of supporting them.

2016 Flash Point: Many Iranian protesters attacked Saudi diplomatic missions in Iran following Saudi Arabia's execution of the Shiite Muslim cleric Sheikh Nimr al-Nimr.

The warming of relations between Iran and Saudi Arabia may have a positive impact in dealing with Israel and the Palestinian issue. Iran and Saudi Arabia also share a common interest in stable oil prices. Normalization of relations would ensure steady oil revenues for all producing countries.
Source: IE