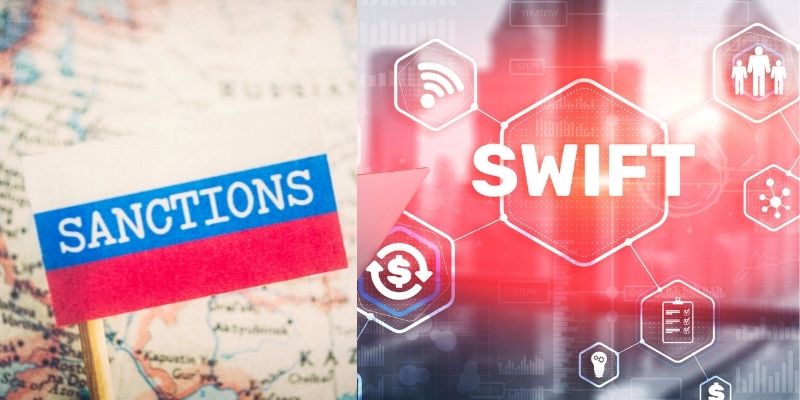 Removing Russian banks from the SWIFT system will render them unable to conduct most global financial transactions
Read more



In a joint statement, the United States, the United Kingdom, Europe, and Canada stated that they would block some Russian banks from the SWIFT international payment system (the world's major international payments network) as part of sanctions in response to the attack on Ukraine.

The move comes after the U.S. and its allies imposed sanctions this week on critical Russian banks as well as President Vladimir Putin, among others, as Russian soldiers advanced into Kyiv, the capital of Ukraine.

The steps taken in the coming days will prevent Russia from using $630 billion of "war chest" in central bank international reserves, making it difficult for Russia to liquidate its assets in preparation for an invasion of Ukraine.

Russia's oil and gas exports are highly reliant on the SWIFT system. By removing Russian banks from the SWIFT system, they would be unable to perform most of their financial transactions globally, causing a blow to Russian commerce and making it more difficult for Russian enterprises to do business.

The U.S. and its partners will finalize the list of institutions to cut off from SWIFT, prioritizing those already subject to U.S. and European sanctions. Selecting certain Russian banks will guarantee that the sanctions have the most impact on Russia while minimizing the impact on the United States and Europe. European companies will be allowed to recover unpaid debts and purchase Russian energy.

The collective sanctions are the most severe penalties imposed on Russia for its invasion of Ukraine to date. Only one country has previously been excluded, Iran, which lost 30% of its foreign trade.

What is SWIFT?

The Society for Worldwide Interbank Financial Telecommunication, or SWIFT, was created in 1973. It is a messaging system that allows for quick cross-border payments. Its principal goal is to offer a secure transmission channel that enables banks to communicate quickly, securely, and cost-effectively.

Approximately 11,000 financial institutions use SWIFT in over 200 countries. It appears to have formed the backbone of the worldwide money transfer system, facilitating the seamless flow of international trade. It plays a crucial role in the worldwide financial system. Russia's capacity to trade with the rest of the world will be harmed as a result of its absence from SWIFT.
Source: BBC