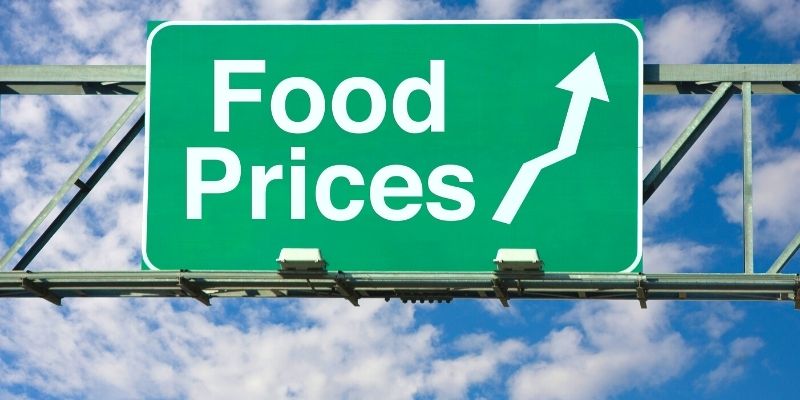 International prices for wheat, maize, and vegetable oils skyrocketed due to the Ukraine war
Read more



According to the UN Food and Agriculture Organization (FAO), the World Food Price Index averaged 159.3 points in March 2022, exceeding an old record of 137.6 points set 11 years ago in February 2011. The current increase represents new all-time highs for vegetable oils, cereals, and meat and significant increases in sugar and dairy products.

What is FAOs Food Price Index (FFPI)?

The FAO Food Price Index (FFPI) is a monthly assessment of the change in international food prices. It was introduced in 1996 as a public good to help in monitoring developments in the global agricultural commodity markets. It measures changes for a basket of cereals, oilseeds, dairy products, meat, and sugar. These commodities are chosen for their high and strategic relevance in global food security and trade, although they account for around 40% of gross agricultural food commodity trade.

What kind of impact has been seen and why?

Cereal prices increased 17.1% in March due to a surge in wheat and coarse grains costs, while vegetable oils rose 23% due to a rise in sunflower, palm, soy, and rapeseed oil prices. The war in Ukraine drove the soaring prices. Russia and Ukraine, combined, accounted for around 30 percent and 20 percent of global wheat and maize exports. Ukraine is the world's leading exporter of sunflower seed oil. Palm, soy, and rapeseed oil prices also rose due to the higher sunflower seed oil prices and the rising crude oil prices.

The meat index rose 4.8 percent, reaching an all-time high, with pig meat prices climbing the highest since 1995 due to supply shortages in Western Europe and increased domestic demand in anticipation of the Easter vacations.

Dairy prices rose by 2.6 percent due to insufficient milk production in Western Europe and Oceania.

Sugar prices increased by 6.7 percent as crude oil prices jumped sharply, raising anticipation of increased usage of sugarcane for ethanol production.

The FAO index has been highly volatile in the previous two years, earlier due to the Covid-19 outbreak and now the Russia-Ukraine conflict. Due to reduced demand caused by pandemic-induced lockdowns across countries, the index had fallen to a four-year low in May 2020. However, as demand increased as countries eased restrictions on economic activity and migration, supply chain issues arose, including shortages of everything from harvesting laborers to packing supplies and shipping containers. Supply shortages have worsened due to the Black Sea region tensions, causing the index to rise between January and March 2022. Lastly, port closures in the Black Sea and Azov Sea, plus Russian banks being cut off from the international payments system, have resulted in massive shipping disruptions from this critical agri-commodities supply region.

What is the Food and Agriculture Organization?

FAO is a United Nations specialized agency that leads international efforts to end hunger. Every year on October 16th, the globe celebrates World Food Day. The day commemorates the anniversary of the FAO's foundation in 1945. It is one of the United Nations food aid organizations situated in Rome (Italy).